Carr: Raiders offense 'so close' to being in sync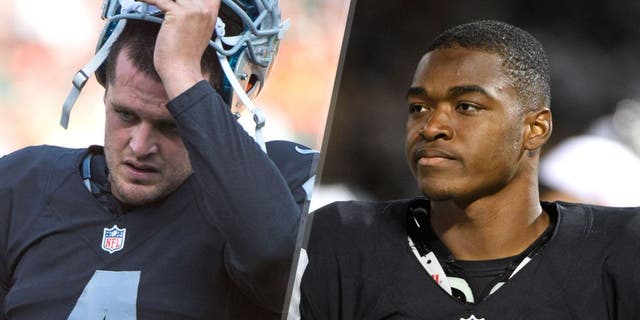 NEWYou can now listen to Fox News articles!
Derek Carr and Amari Cooper want to put the Raiders' last preseason game behind them.
So, the duo now known as 'AC/DC' stayed behind after Raiders practice to run some extra routes.
"We were so close, man," Carr told Scott Bair of CSN Bay Area. "There were just too many things we were that far off."
Cooper and Carr weren't the only problems for Oakland's offense. Latavius Murray found running room tough to come by. The offensive line could've blocked better. And other receivers could've run crisper routes in a 30-23 loss.
It all fell apart for Carr. and Co. once they reached scoring range. In six red zone trips, the Raiders came away with five field goals and a Cardinals pick-six.
The group won't get a chance for redemption until Week 1. Head coach Jack Del Rio will probably hold his starters until the games actually count.
But in preseason, the mistakes don't count either. Carr said he's happy his offense got its mistakes out now -- it's a learning tool to use for the fall.
"Right now, you want to build," the quarterback said. "It's good to have lessons learned now. We talk about it all the time -- you want to learn lessons now and learn what you can and can't get away with. That way, when you hit the regular season, you hit the ground running."