Caroline Wozniacki not 'desperate' enough for Internet dating after McIlroy breakup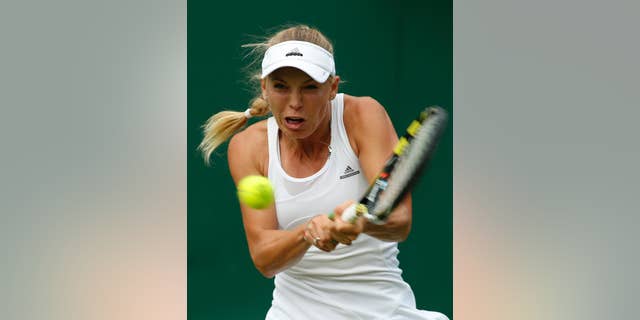 LONDON – Caroline Wozniacki appears to be moving on from her breakup with golfer Rory McIlroy. Just don't ask her about Internet dating.
"I think I'm not that desperate," Wozniacki said, smiling. "I'll just see what happens. I'm perfectly fine being single at the moment. It's pretty hard to sweep me off my feet. It would have to take someone very special. You know, you never know."
The 23-year-old Danish player was questioned about her love life after beating Shahar Peer of Israel 6-3, 6-0 on Tuesday in the completion of a rain-delayed, first-round match at Wimbledon.
Wozniacki lost her first-round match at last month's French Open just a week after McIlroy ended their relationship as the wedding invitations were being sent out.
Asked again Tuesday about the breakup, she said: "I feel like I've answered that question a lot of times."
Wozniacki was coy when asked about Feliciano Lopez, a 32-year-old Spanish player.
When a reporter said she seemed to have a "great admirer" in Lopez, she replied: "You noticed?"
The reporter noted that Lopez has watched her matches and knows her father.
"He's already making his way in through my dad?" she said with a laugh.
Wozniacki said she noticed that Lopez had been "on the sidelines" of her matches at last week's Wimbledon warm-up in Eastbourne, where the Spaniard won the men's title.
"He's a great guy," she said. "This is very awkward."
Wozniacki also spoke of her bond with Serena Williams, calling her "an amazing friend." The two spent time together in Miami after their early exits in Paris, where Williams lost in the second round.
"She's always been there for me whenever I've needed her," Wozniacki said.
"After everything that she's achieved in her professional career, as well, that she finds time ... she wants to help out a friend who needs it sometimes. It's just nice to have good people around you."