Carolina Panthers owner David Tepper takes odd jab at Trump, supports NFL players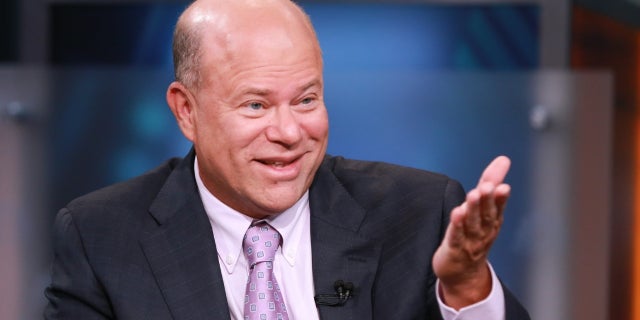 The Carolina Panthers' new owner bizarrely referred to President Trump only as "a red-headed guy in D.C." during a Thursday interview where he voiced his full-throated support for players who kneel during the national anthem.
Billionaire businessman David Tepper, who bought the team from Jerry Richardson in May, addressed the players' protest during an interview with CNBC.
"These are some of the most patriotic people and best people," Tepper said. "These are great young men. So to say that [they aren't patriotic] makes me so aggravated and angry. It's just wrong, it's dead wrong."
Tepper's pushback appeared largely aimed at Trump, who has been critical of the NFL's handling of on-field demonstrations during the playing of "The Star-Spangled Banner." The protests, designed to raise awareness about perceived police brutality and racial injustice, started with former San Francisco 49ers quarterback Colin Kaepernick and spread around the league.
But Tepper said all Trump has done is kept the protests in the news.
"We're talking about it? I wasn't talking about it," Tepper said. "There's a red-headed guy in D.C. that likes to talk about it, but I don't want to mention his name."
He appeared to be referring to Trump, though the president does not have red hair.
RED SOX MANAGER ALEX CORA BLASTS TRUMP TWEETS ON PUERTO RICO DEATH TOLL, CALLS THEM 'DISRESPECTFUL'
Tepper said the protests were about "justice for all."
"It's the Pledge of Allegiance, one of the most patriotic things you can do. It's about justice for all," he said. "Now listen, everybody's standing this season, because I think people understand that it's what you do in the community, it's what you do out here."
CARRIE UNDERWOOD'S NEW 'SUNDAY NIGHT FOOTBALL' THEME 'GAME ON' SLAMMED BY FANS
Tepper said the league could do a better job of highlighting the good things NFL players do in their communities.
"You've got a lot of people that do a lot of good things. So I think maybe the league could do more. Maybe they can maybe they can't, saying how much good the players do," Tepper said. "Get that message out more."