Carmelo hasn't given up on the Knicks, wants to recruit free agents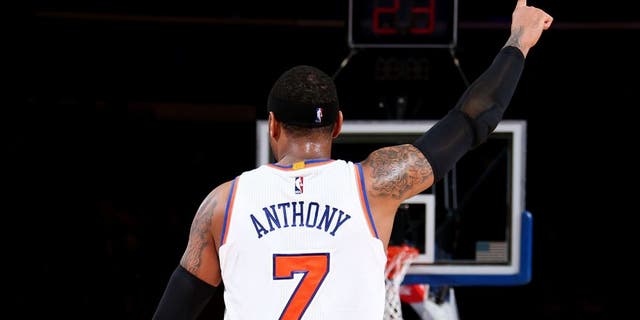 Carmelo Anthony's future with the New York Knicks is up in the air. Yes, he holds a no-trade clause on a contract that can go through 2019. But the 31-year-old forward appears to be increasingly frustrated with New York's on-court performance and off-court leadership.
Last week, he called team owner James Dolan out to a heckling fan and was later forced to issue an apology. A little while later, Anthony wondered aloud why his peers -- LeBron James, Chris Paul and Dwyane Wade -- have had more success in their careers.
But, apparently, Anthony doesn't want out of the Big Apple. No. Instead, he's interested in recruiting free agents to the Knicks (via ESPN):
Given everything that's transpired over the past few weeks, this is odd. Anthony has publicly stated his desire to win in New York numerous times, but the franchise's trajectory doesn't call for much success in the immediate future. Even if they sign Sacramento Kings point guard Rajon Rondo, who Anthony cites by name in the article, the Knicks probably still don't even make the playoffs next season.
If Arron Afflalo and Derrick Williams both opt out of their contracts, New York will have enough cap space to sign a max contract, but so will over half the league -- from a free agency pool that isn't very attractive.
It's best for everyone involved that Melo moves on, accepts a trade and lets New York rebuild around rookie phenom Kristaps Porzingis. If Anthony isn't traded this summer, the Knicks risk him declining and permanently damaging his market value.
Forget about short-term relief, this franchise needs to finally start thinking big picture.