Carmelo Anthony Scores 50, but Nuggets Still Lose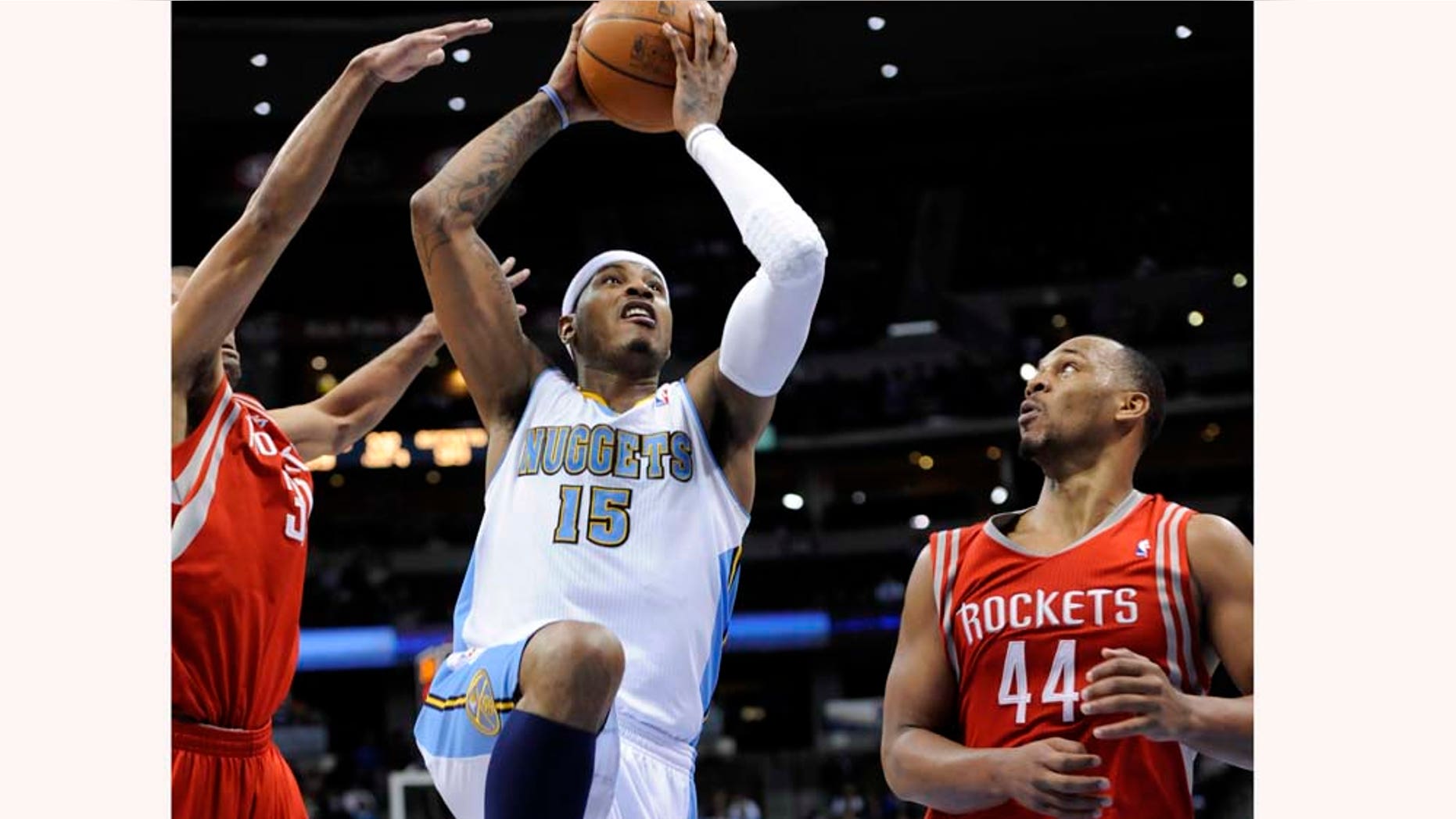 So much for Carmelo Anthony being distracted by all the trade talk.
The Denver Nuggets forward scored 50 points Monday night against the Houston Rockets. Alas, it was not enough to put his team over the top.
On Monday night, his current team, the Nuggets, lost 108-103 despite Anthony's virtuoso performance.
The scoring explosion came amid trade rumors that have swirled around Anthony, who is half Puerto Rican, for months now. The New York Knicks, among other squads, have been mentioned as possible destinations.
"The shot felt good, just attacking the rim, trying to get baskets," Anthony said. "The jump shot was falling and it opened up drives to the rack. But 50 don't mean nothing tonight. I'd give it back."
Anthony scored nine points in the final minute of a furious but futile comeback attempt. His banked 3-pointer made it 105-101 with 20 seconds remaining, but Kyle Lowry made two free throws at the other end.
Anthony got the inbounds pass and drove to the basket for the layup that matched his career high set Nov. 27, 2009, against the Knicks. Anthony didn't touch the ball on the final inbounds with 5.3 seconds left.
Last time he scored 50 points, Anthony celebrated a 128-125 win over the Knicks.
This time, he hardly cracked a smile.
"When you score 50 points and lose you start thinking why? Why the 50?" Anthony said. "If we'd have won it would have been totally different."
Anthony is the second NBA player to reach 50 points in a game this season. Miami's LeBron James scored 51 at Orlando last week.
Anthony has had an inconsistent season with trade talk hovering over him ever since he declined to sign a three-year, $65 million extension in June. Two megadeals with the New Jersey Nets have fallen apart, but many expect he'll still be moved by the Feb. 24 trade deadline so the Nuggets don't risk losing him to free agency next summer for nothing.
Asked if he could appreciate how tough it would be for a franchise to trade a guy who just dropped 50 points on a team, Anthony demurred.
"I don't really want to talk about that, man," he retorted. "I'm not talking about no Nuggets management right now."
Rarely has Anthony been as good as he was Monday night.
"He made every shot," Rockets coach Rick Adelman marveled. "He was putting his head down and going. We don't have a lot of resistance to the basket. Shane (Battier) got in foul trouble, then we had to put Chuck (Hayes) on him. So, there was no one behind. Just put his head down and went to the basket."
Anthony, who made 16 of 24 shots from the field and 16 of 18 free throws, said he was surprised the Rockets didn't double-team him.
"That was the first time I've seen that in a long, long time," Anthony said. "Especially with a big guy on me with Chuck Hayes. ... Like, I said, some shots felt good tonight. But it wasn't enough."
"He's always a handful and he got it going tonight," Battier said. "There's not so much you can do when he puts his head down and goes to the hoop. We played pretty good defense on him going to the hoop. There was some contact there and he got to the free throw line 17 times. That's a big number.
"Our game plan was to make him hit the jumpers. He made a few. We started to do a better job on the rest of the guys: 'Let 'Melo score his point, let's concentrate on everybody else.'"
Based on reporting by the Associated Press.
Follow us on twitter.com/foxnewslatino
Like us at facebook.com/foxnewslatino