Carlos Mármol Loses Job As Chicago Cubs Closer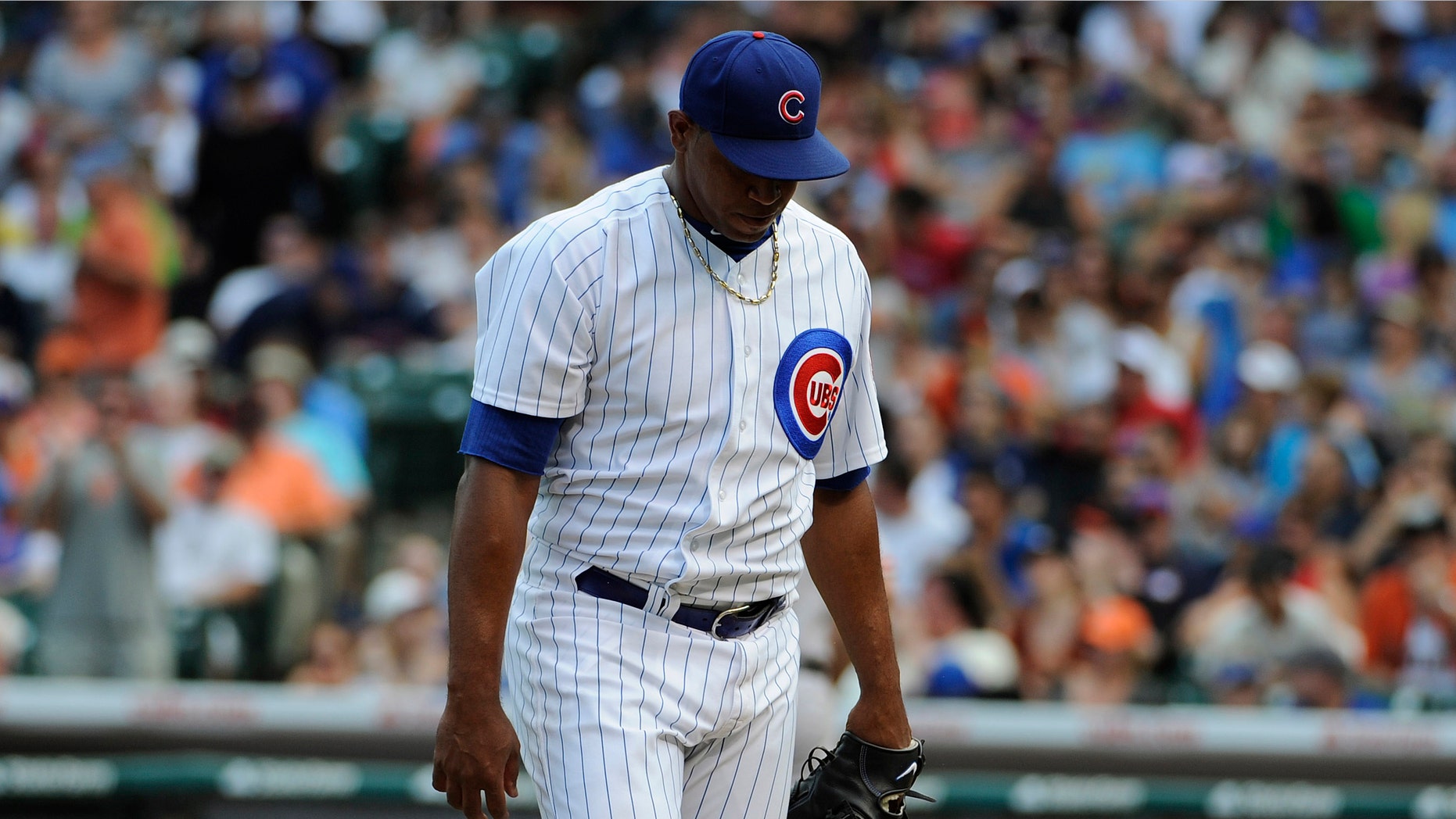 Carlos Mármol still believes in himself as a closer. However the Chicago Cubs don't feel the same way.
On Sunday manager Dale Sveum announced Mármol would no longer close games. Instead Japanese import Kyuji Fujikawa will take over the role.
"You can't complain about it," Marmol said to ESPN about losing his job. "They say it's better for me and for the team. I'll take it. I agree."
While Fujikawa said he believes his role as the team's closer could be temporary, Sveum said he wants him to keep the position.
The pitching shake up comes after Mármol failed to convert a save for the second time in three chances this week — this time giving up solo homers in the ninth inning to brothers B.J. and Justin Upton as the Cubs blew a four-run lead and lost 6-5 to the Atlanta Braves.
"I'm trying, I'm trying," Mármol said after Saturday's loss. "I don't lack confidence. They're hitting my pitches, though."
On Saturday both Mármol and Fujikawa wasted what would have been a victory for starter Carlos Villanueva.
The Cubs had taken a 5-1 lead on Nate Schierholtz's RBI single, Anthony Rizzo's two-run homer, Luis Valbuena's solo shot and Wellington Castillo's RBI single.
Chicago loaded the bases in the eighth off Varvaro, but earned nothing for the effort. After second baseman Dan Uggla threw to catcher Gerald Laird for a forceout, reliever Gearrin retired Starlin Castro on a flyout and struck out Rizzo.
That set the stage for Atlanta's three-run eighth off Fujikawa. Freddie Freeman's RBI single scored Justin Upton, and Ramiro Pena followed with a two-run single to make it 5-4.
"(Fujikawa) didn't have his split (fastball) today," Sveum said. "His split was just flat. It wasn't doing anything. He didn't locate his fastball tonight. It was up in the zone."
Mármol had already been through a tough week. He was pulled from a save situation after facing four batters and not recording an out in Chicago's win at Pittsburgh on opening day, but he earned a save on Thursday against the Pirates despite giving up two ninth-inning runs.
Mármol blames poor location of his pitches with his most recent struggles.
"I tried to do my best out there," he said. "I need to locate my pitches more. That's why they're getting hit."
The Upton brothers, major offseason acquisitions for Atlanta, became the 25th tandem of brothers to homer in the same major league game and the first since Adam and Andy LaRoche accomplished the feat for Pittsburgh on June 17, 2009.
Making his first start since signing with the Cubs as a free agent in the offseason, Villanueva gave up six hits, one run and two walks in 6 2-3 innings. He struck out six.
Villanueva began the game with a 12-18 record and a 5.33 ERA in 44 career starts with Milwaukee and Toronto, but the right-hander settled down after Upton's solo shot made it 1-all in the first.
Braves starting pitcher Julio Teheran allowed eight hits, five runs and one walk with two strikeouts in five innings. The 22-year-old right-hander dropped to 1-2 with a 5.79 ERA in five career starts.
Valbuena's first homer put the Cubs up 2-1 in the fourth. After the Cubs' three-run fifth, Teheran left for a pinch-hitter.
Eric O'Flaherty (1-0) pitched a scoreless ninth despite allowing a hit and walk.
Mármol (0-1) gave up two hits, both solo homers, in one-third of an inning. His ERA ballooned to 27.00.
Villanueva has spent much of his career as a reliever and knows this is a tough time for Mármol, who has converted just 82 percent of 142 save chances over his last seven years with the Cubs.
"It's tough," Villanueva said. "I've been through it. I just hope that he understands that we've only had five games. I'm more concerned for how he feels."
Based on reporting by the Associated Press.
Follow us on twitter.com/foxnewslatino
Like us at facebook.com/foxnewslatino