Carl Edwards on Talladega: 'There's no room for error'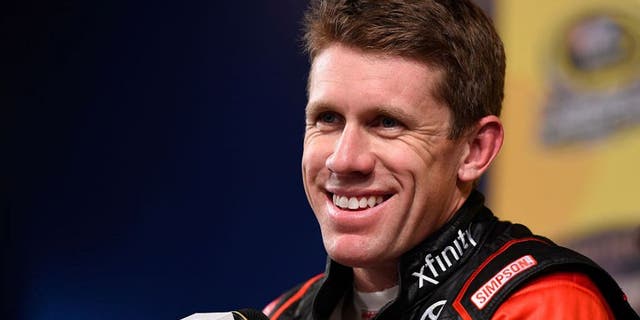 When the Sprint Cup Series heads to Talladega Superspeedway this weekend, Carl Edwards, along with his Joe Gibbs Racing teammates, all enter with levels of uncertainty about advancing to the Round of 12 in the Chase for the Sprint Cup.
Edwards enters the Chase elimination race with a 24-point cushion over the cutoff, but that isn't a huge gap, just ask his teammates Denny Hamlin and Kyle Busch who have had their own misfortunes at the track in elimination races.
Speaking of those teammates, it doesn't seem like they'll be able to try to push Edwards to his first win at the track since they're dealing with their own battles to stay alive in the Chase.
Hamlin can't help his teammate because he's in a much more desperate situation, trailing the Chase cutoff by six points.
And, after the ending at Kansas Speedway, it doesn't look like Kyle Busch will be eager to help his teammate after yelling at him on the radio as they raced each other while Harvick pulled away to win the race.
"We race hard against one another," Edwards said at a testing event on Tuesday at Homestead-Miami Speedway. "Everybody at Joe Gibbs Racing works very well together, but you could see it (at Kansas). We all race hard. Me and Kyle (Busch) raced each other very hard. Matt (Kenseth) and I raced each other hard on a restart early in the race.
"As long as we can balance that and motivate one another, and not take it over the edge then I think it's great. Being a part of this group is something that has made me a lot better driver."
With a limited amount of help available from his teammates, Edwards isn't planning on leaving much up to chance at the superspeedway.
"We have about a 20 to 25-point cushion which can be erased in an instant at Talladega, so right now the plan is to go there and win the race and leave no doubt," Edwards said. "So much can happen. That first lap could be a disaster, so you have to respect the place and respect the fact that any of the competitors in it can go out there and win the race."
The issue with that plan is that there isn't much you can control at Talladega and Edwards knows that.
After all, he's been in some wild crashes at the track, including his flip into the catch fence in 2009.
Edwards hasn't won a Sprint Cup race at the superspeedway, but with so much uncertainty, you can't count anybody out.
"Everything is on edge with these cars all the time," Edwards said. "If you have one guy with a flat tire or a guy with a miscue or mistake, you're in a group of 15 or so other cars in a space the size of this room, and we're all going 200 miles per hour.
"There's no room for error. You're really at the mercy of a lot of chance the entire day."