Carl Edwards floats rules change to fix chaos of last-lap wrecks at restrictor-plate tracks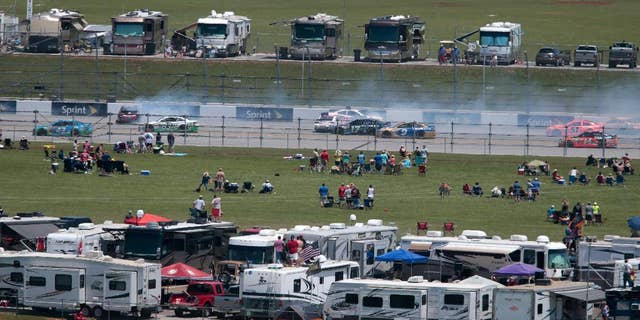 KANSAS CITY, Kan. – Carl Edwards spoke with NASCAR president Mike Helton on Friday about the finish of last week's race at Talladega, which ended under green despite a massive wreck.
Edwards was hit by Casey Mears, causing his No. 19 Toyota to spin sideways. Several drivers zipped past him down the backstretch as they fought for position on the final lap.
NASCAR typically tries to avoid last-lap cautions because they freeze the field, essentially ending the race. There is no opportunity for another restart.
When asked for a solution to the predicament, Edwards replied: "Maybe at restrictor-plate races, the top five guys could have a points difference and then everybody fifth or back, or 10th or back, just give them the same amount of points. I don't know."