Cards miss chance to seize control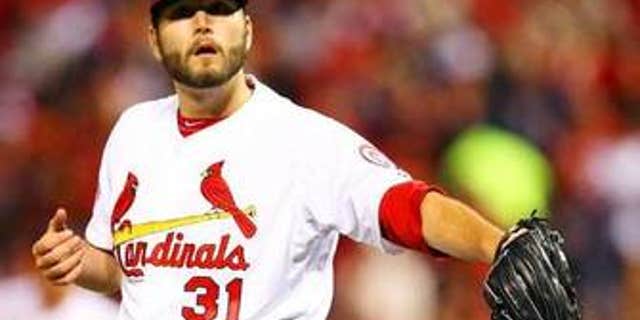 ST. LOUIS – The St. Louis Cardinals and Boston Red Sox both won 97 games during the regular season, three in the division series, four in the league championship series, and now two in the World Series.
The Red Sox are 1-1 at home. The Cardinals are 1-1 at home. The Fall Classic stands as it should, with baseball's best teams all square once again.
"No one expected a sweep," Cardinals starter Lance Lynn opined late Sunday night. "Isn't this what it's all about -- tied 2-2 in the World Series with three games to go?"
He's right. Neither team has played well enough to say it deserves a 3-1 lead. And now the final major league baseball game of the year will be staged at Fenway Park for the first time since 1975, which is certain to be theatric and memorable and many more adjectives on top of that.
All of that is true, yet one more fact lingered in the cool air at Busch Stadium after Boston's 4-2 victory in Game 4: This was the Cardinals' chance to seize control of this World Series -- absolutely, indisputably -- and they whiffed.
Boston starter Clay Buchholz trudged to the mound with a right wing that he acknowledged to be less than 100 percent. His fastball mostly stuck at 88 mph, below his average for most of the season. And yet he permitted only one unearned run over four innings. He handed the game to Boston's reliable bullpen in winnable condition. Felix Doubront (2-2/3 spectacular innings) and Jonny Gomes (game-winning three-run homer) took it from there.
The game ended improbably for the second straight night, with St. Louis rookie Kolten Wong picked off first base as Carlos Beltran -- Señor Octubre -- stood in the batter's box. It couldn't match Saturday's game-ending obstruction call, the first of its kind in World Series history. But it underscored the Cardinals' failure to execute in a game that could have unleashed New England's latent sports pessimism in all its fury.
Of Wong's mistake, Cardinals veteran Jon Jay offered: "It's not on him. We had a lot of missed opportunities."
As often happens in the postseason, some of the most pivotal moments occurred early in Game 4. With the teams still locked in a scoreless tie, Yadier Molina doubled with one out in the second. Jay drew a walk. Buchholz was in trouble. Eyes in the press box drifted toward the visiting bullpen, wondering how quickly manager John Farrell would muster the long relievers.
But the threat ended just as quickly as it began. David Freese, who has swung poorly (and defensively) throughout the World Series, struck out on four pitches. Daniel Descalso grounded to short. Inning over.
The Cardinals nicked Buchholz for an unearned run in the third, but they never scored the early knockout that so many observers expected. Buchholz, worn out at the end of an injury-plagued season, relied on movement rather than velocity. By the time the St. Louis hitters started to adjust, Farrell had traded right-handed finesse for left-handed power in the form of Doubront.
Boston's relievers controlled the game masterfully -- outside of Craig Breslow's latest uneven performance -- and permitted only one earned run over the final five innings. Jay, Freese and Descalso combined to go 0 for 9 in Game 4 -- from the sixth, seventh and eighth spots, respectively -- and now the Cardinals must wonder if they can expect much output from the bottom of their order for the remainder of the Series. Freese, ever candid and self-aware, described his at-bats as "terrible."
Above all, the Cardinals' inability to pounce on a compromised Buchholz helped the Red Sox regain their swagger. David Ortiz -- now hitting .727 in the Series -- rallied his teammates in the dugout, before Gomes delivered the ultimate confidence-booster over the wall. Meanwhile, Farrell and his dugout lieutenants have discovered that power lefties -- such as Doubront and Jon Lester -- are the best antidote for the St. Louis hitters. Fortunately for the Red Sox, Lester will start Game 5 on Monday night.
The Cardinals were correct to assert this Series stands about as it should. They have every reason to expect their ace, Adam Wainwright, will be better in Game 5 than he was in the opener. But if this season ends with a champagne celebration in the home clubhouse at Fenway Park, we'll remember what transpired here Sunday.
The commissioner's trophy was primed for its preparatory polish. Instead, it waits. The Cardinals, with the most world championships of any National League franchise, surely know that this performance before a stadium-record crowd of 47,469 simply wasn't good enough.
The original article can be found at FOXSports.com: Cards miss chance to seize control.