Cards activate Wong, Siegrist, demote Mejia, Weaver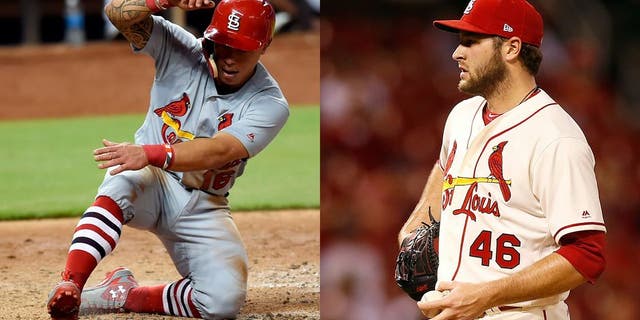 ST. LOUIS -- The St. Louis Cardinals will begin their second-half push with the return of two players who have been missing for part of the first half, second baseman Kolten Wong and reliever Kevin Siegrist.
The Cardinals announced Thursdaythey have activated Wong and Siegrist from the 10-day disabled list, the former on Monday and the latter Thursday.
The club sentinfielder Alex Mejia and right-hander Luke Weaver to Triple-A Memphis on Sunday to make room for the veterans on the 25-man roster.
Wong is back from the DL for the second time this season. He missed 13 games from May 27-June 8 with a left elbow injury, then went back on the DL with a right triceps strain June 15, missing the next 24 games. He hit .400 in a four-game rehab assignment at Double-A Springfield.
Wong, 26, was in the midst of a six-game hitting streak that raised his season average to .301 when he hurt his triceps.
Siegrist has been out since June 23 with a cervical spine strain. He also did rehab work at Springfield, tossing aninning in each oftwo appearances. The left-handeris 1-1 with a 4.94 ERA, one save and 25 strikeouts in 31 games this season.
Mejia batted .214 while filling in at second base, third base and shortstop during his first big-league stint, which included 14 at-bats over 10 games.
Weaver, who was recalled July 3, pitched threescoreless innings over two appearances with the Cardinals.