Cardinals' Matheny finishes second in NL manager voting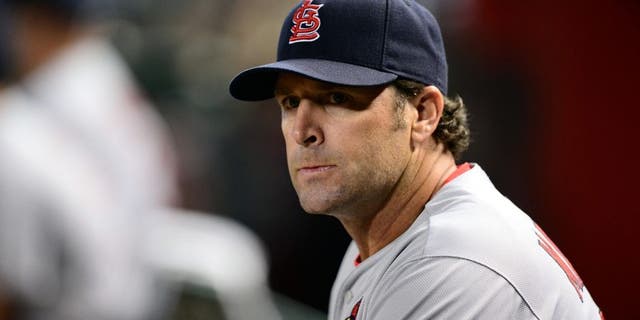 NEWYou can now listen to Fox News articles!
NEW YORK -- After leading the St. Louis Cardinals to a 100-win season -- tops in the majors -- Mike Matheny finished second in balloting for National League Manager of the Year.
Beating him out was Joe Maddon, whose Chicago Cubs knocked the Cardinals out of the playoffs.
It was the third Manager of the Year award for Maddon and his first in the NL after guiding the Cubs to their first postseason berth since 2008. Maddon got nine first-place votes for 124 points from the Baseball Writers' Association of America in balloting announced Tuesday.
Maddon becomes the seventh manager to win the award three times and the seventh to earn it in both leagues. He won the AL award with Tampa Bay in 2008 and '11.
With NL Rookie of the Year Kris Bryant anchoring a youthful lineup, Maddon's Cubs won 97 games, good for the third-best record in the majors this year -- and third place in the Central. Chicago beat Pittsburgh in the wild-card game and St. Louis in the NL Division Series before losing to the New York Mets in the NL Championship Series.
Texas' Jeff Banister was given the AL honor, the fifth first-year big-league manager to win the award.