Cardinals LT Veldheer to make homecoming at Lions on familiar day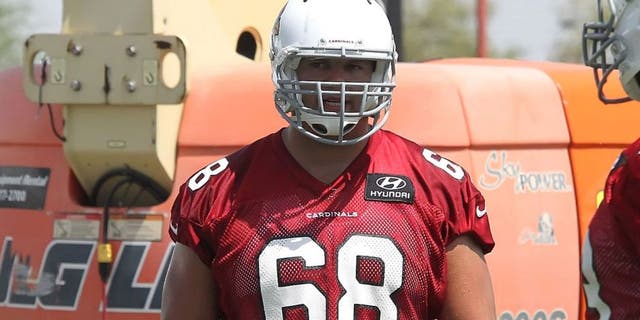 At a position where most players prefer to go unnoticed, Arizona Cardinals left tackle Jared Veldheer will have plenty of eyes upon him in Sunday's matchup at the Detroit Lions.
It will be a homecoming for Veldheer, who went to high school in Grand Rapids, Mich., and played collegiately at Division II Hillsdale College.
"It will be pretty awesome, I'm excited," said Veldheer, who told Mlive.com he expects to have about 100 friends and family at the game along with his parents. "I know the game is inside but it will be nice, too, to get a little piece of Michigan fall weather."
Although it's the first time Veldheer will play professionally in his home state, Sunday's matchup will continue a trend of facing the Lions on the 11th day of the month. He's 1-1 against Detroit, with Arizona posting a 14-6 victory at home on Nov. 11, 2014.
Veldheer's first matchup versus the Lions, as a member of the Oakland Raiders on Dec. 11, 2006, was noteworthy beyond the outcome - a 28-27 last-second loss to Detroit. Veldheer proposed to his future wife that night.
"We're really looking forward to it because he's never been this close -- Detroit, Chicago or Cleveland -- for everyone to drive to see him," said Veldheer's father, James. "I know his Forest Hills Northern friends will be there and Hillsdale will have an alumni tail-gater. It's going to be a festive day."
MORE NEWS: Want stories delivered to you? Sign up for our NFL newsletters.