Cardinals' Lackey gives nod to Yadier as best of catching Molinas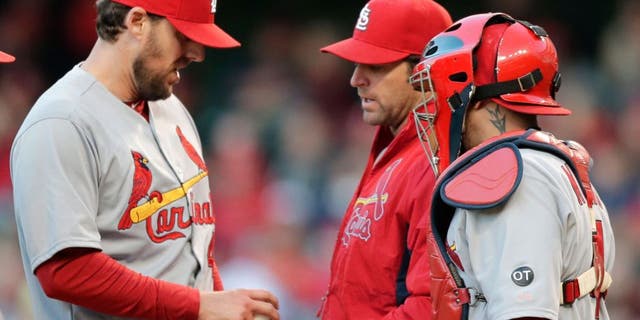 St. Louis Cardinals right-hander John Lackey won't shake off his batterymates when it comes to picking the best catcher among the three Molina brothers.
Lackey broke into the majors with the Anaheim Angels as a rookie in 2002 and had the unique situation of pitching to the brother duo of Bengie and Jose Molina. Last year's trade to the Cardinals gave him the opportunity to work with Yadier, the youngest of the trio.
"Yadi's a combination of the two. He's good defensively and a good hitter," Lackey told the St. Louis Post-Dispatch. "I remember in '02 and '03, Bengie and Jose, even then, were saying, 'Wait till our little brother gets here. He'll be better than both of us.'
"And they were right."
Yadier certainly has the credentials to back up Lackey's opinion. The seven-time Gold Glove winner has batted over .300 four times and has made the NL All-Star team seven years running.
Still, the 36-year-old Lackey was effusive in his praise of both Bengie and Jose. Bengie was a career. 274 hitter with 144 homers and won a pair of Gold Gloves while Jose was primarily a backup throughout his career.
"Bengie was good defensively," Lackey recalled. "I remember him being a really good hitter. He got a lot of huge hits for those Angels teams.
"Jose was more of a defensive guy. He could probably catch and throw the best out of the three."
(h/t St. Louis Post-Dispatch)