Cardinals hope roll continues in interleague series vs. Red Sox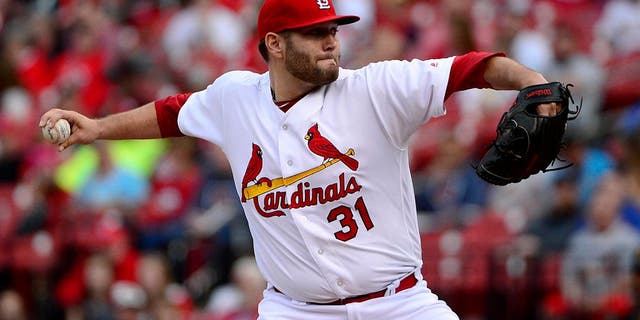 With eight wins in their last nine games and an 18-6 record since April 17, the St. Louis Cardinals have made serious strides toward living up to their lofty preseason aspirations.
"We have a solid lineup," starter Adam Wainwright said after tossing seven shutout innings Sunday in a 5-0 win over the Chicago Cubs. "If we can go out there and put up some zeroes, give them a chance to turn the lineup over a couple of times, we're going to be a tough lineup to stop."
St. Louis will try to execute that formula again Tuesday night when it opens a two-game interleague series with the Boston Red Sox at Busch Stadium. To do so, it will have to solve the kind of pitcher that's been hardest on them in recent years -- the young, lively arm they have rarely faced.
Boston will run left-hander Eduardo Rodriguez (1-1, 2.80 ERA) to the mound for his first career outing against the Cardinals. Rodriguez's last start was an interleague contest Thursday in Milwaukee, when he held the hard-hitting Brewers to three hits and a run over six innings with no walks and five strikeouts.
While Rodriguez settled for a no-decision, his strong outing fueled a 4-1 victory that enabled the Red Sox to avoid a sweep. It was one of just two wins last week for Boston, which dropped two of three over the weekend to Tampa Bay at Fenway Park.
Following Sunday's rainy 11-2 loss, the Red Sox are just one game over .500 at 19-18.
"It's clearly where we are," Boston manager John Farrell said. "We go out on the road, we know that there's a stretch of games where we've got to perform. The last 12 games here, it hasn't been what we hoped. We've got to execute, make plays, make pitches up and down the lineup with everybody."
While the Red Sox search for the results everyone expected when they gathered three months ago for spring training, St. Louis (21-15) merely wants to keep things between the lines, much as it has done since a 9-3 loss on April 16 at the New York Yankees capped a stretch of nine losses in its first 12 games.
Over the last 24 games, the lineup has displayed the depth many expected it would, the pitching staff has pitched to a higher level and the team has even displayed some improvement defensively. Sunday's win over the Cubs featured some of the crispest defense of the year, with two pretty double plays turned behind Wainwright and at least three other above-average plays to take hits away.
"There's nothing really not to like," Cardinals manager Mike Matheny said. "Winning fixes everything. I think it's them believing in themselves."
Lance Lynn (4-1, 2.75) gets the start for St. Louis in the series opener. Lynn has won four straight decisions, although he's coming off his first bad start in a month, a four-inning, four-run outing Wednesday night in Miami. He got ano-decision when the Cardinals rallied for a 7-5 win.
Lynn faced visiting Boston on Aug. 5, 2014, pitching seven innings and allowing one run in a no-decision.