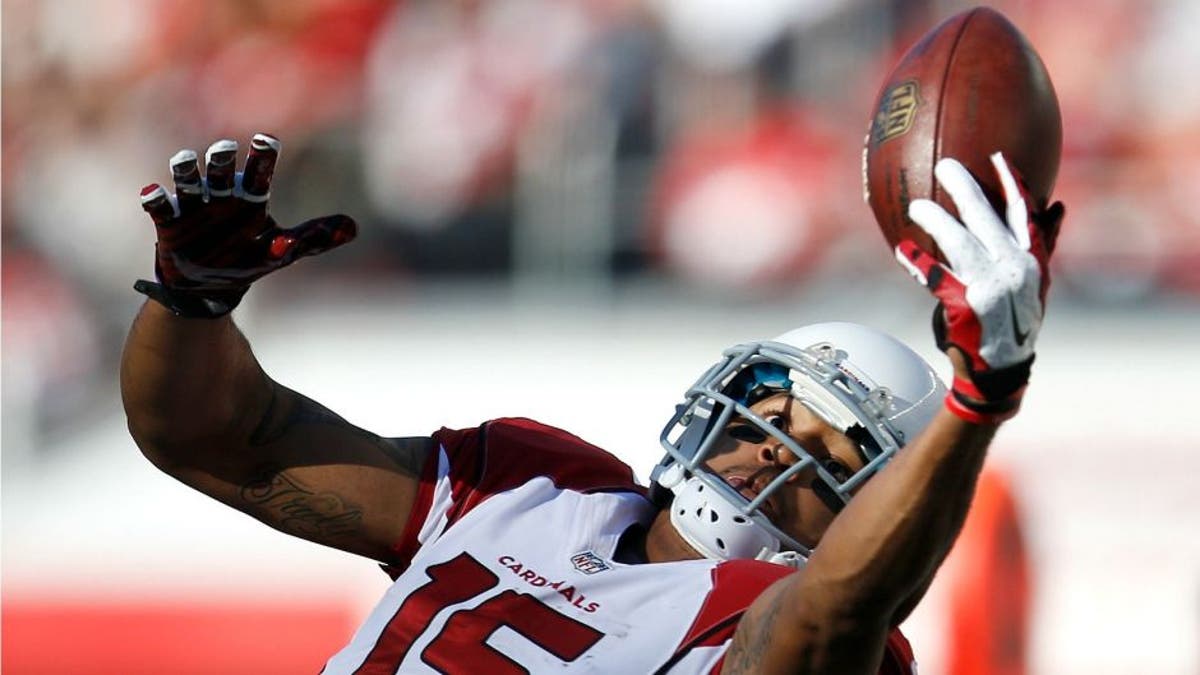 GLENDALE, Ariz. -- The Arizona Cardinals are hopeful injured wide receiver Michael Floyd will be back in time for the Sept. 13 season opener against New Orleans.
The Cardinals starter dislocated three fingers on his left hand in a drill during practice on Wednesday and underwent surgery that night.
Coach Bruce Arians said Friday he never had seen an injury like that, with the fingers hurt when they were jammed into the ball while it was on the ground.
Arians would not offer any timetable, but when asked if was a realistic possibility Floyd would be back for the opener, the coach said, "evidently."
The injury apparently was a painful sight.
"He took pictures of it," fellow wide receiver Larry Fitzgerald said. "Unfortunately, a lot of us have seen it. It's one of those things you wish you hadn't seen. But he's a tough guy. He's going to be just fine."
Fitzgerald knows it's a frustrating time for Floyd.
"It's extremely difficult, because you work so hard throughout the offseason," Fitzgerald said. "Mike had a great offseason. You come into training camp, he's dominating like he was, then to have this setback, it's demoralizing."
Floyd has made some big catches in his three NFL seasons, but Arians said earlier in training camp that he wants to see more consistency out of the 2012 first-round draft pick, and thinks he should have had more of the "50-50" balls.
Floyd was second in the NFL in average yards per catch last season at 17.9. Only DeSean Jackson of Washington was better at 20.9. But Floyd's overall numbers -- 47 catches for 841 yards -- were down from his breakout 2013 season, when he caught 65 for 1,041 yards. Of course, it didn't help last year's numbers that quarterback Carson Palmer and, later, his backup Drew Stanton were sidelined with injuries.
Floyd played at Notre Dame and was the 12th overall pick in 2012. At 6-foot-2, 220-pounds, he teamed with the 6-3 Fitzgerald to form one of the tallest wide receiver tandems in the NFL. When Arians took over in 2013, he moved Fitzgerald to the slot and put Floyd in the wide position, giving him more opportunities downfield.
Jaron Brown moves into Floyd's spot on the first unit, with Brittan Golden and rookie J.J. Nelson moving up to the fourth and fifth receiver positions, respectively.
"You look at it as a challenge," Brown said of moving into a more prominent role. "You can look at it as more reps, more opportunities. That's what I kind of look at it as, just more chance for me to get on film."
Fitzgerald and John Brown are the other two receivers in the three-wide sets. Before the injury, Arians said he might keep all six receivers.
"From a team standpoint, we got better news than what we had initially heard," Fitzgerald said. "So hopefully he will get to be back with us for the opening of the season."
After his Tuesday night surgery, Floyd put out an Instagram photo of him smiling and showing off his heavily bandaged hand. A small stuffed bear rested on Floyd's shoulder, and Fitzgerald was asked about that.
"You know, Mike, he's got a real soft heart," Fitzgerald said, joking with reporters. "He's got a real firm exterior, but he's soft inside."