Cardinals go for series win over never-quit D-backs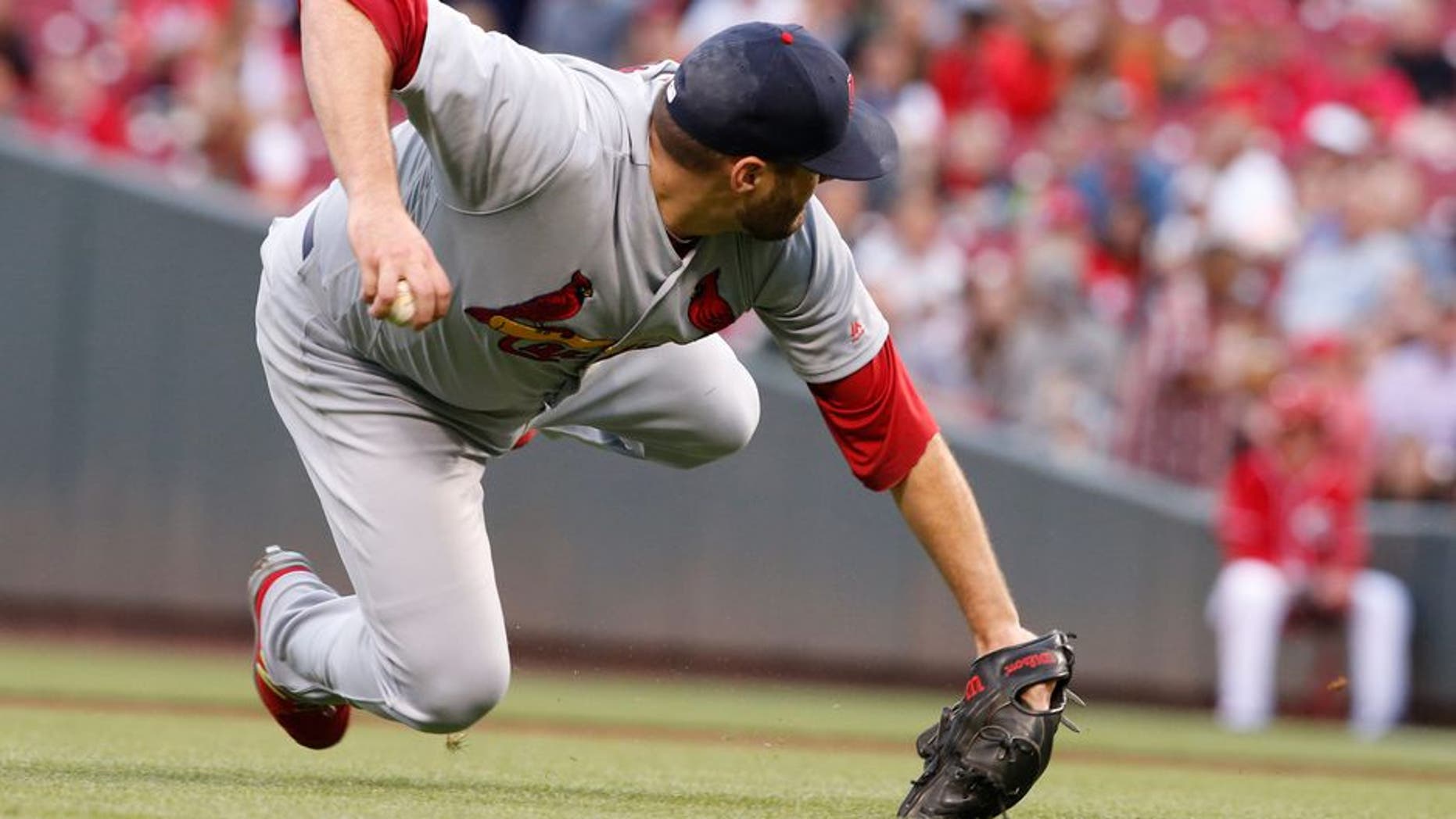 PHOENIX -- The Arizona Diamondbacks didn't gain their 50th victory last season until their 120th game, or when many Phoenix sports fans had long since switched their attention to the NFL Cardinals.
This season, Arizona needed just 78 games to get to 50 wins.
So, what changed?
The players? Not that many. The payroll? Not that much. The manager, for sure -- Torey Lovullo came over from the Red Sox, for whom he was the bench coach. He quickly instilled the mentality of a winner that persisted from his time in Boston, where he was on the bench for the 2013 World Series champions.
While evidence of the Arizona turnaround wasn't all that visible during spring training, it became more apparent on Opening Day, when the Diamondbacks rallied with two runs in the ninth to beat the San Francisco Giants 6-5.
The attitude on display that day has been evident during the Diamondbacks' three-game series against the St. Louis Cardinals that wraps up Thursday afternoon. Arizona will send left-hander Patrick Corbin (6-7, 4.89 ERA) to the Chase Field mound to oppose Cardinals right-hander Lance Lynn (5-5, 3.86), who has never lost to the D-backs in 10 meetings.
The Diamondbacks lead the majors with 28 come-from-behind victories, and Lovullo thinks they have done it in much the same way the Red Sox did while unexpectedly winning the World Series four years ago. What's surprising is a team that lost 93 games last season hasn't needed much time to learn to win.
Arizona almost pulled off another comeback Wednesday, but Cardinals reliever Trevor Rosenthal stranded the potential tying and winning runs on base in the ninth inning of St. Louis' 4-3 victory. It was just the Diamondbacks' third loss in their past 18 home games.
"I feel like a lot of things are overlapping from the teams that I was with and part of in Boston," Lovullo said. "It's about being a group that cares about each other on a level you've never experienced before and laying down your guard and allowing the group to keep moving forward day by day.
"That's what the 2013 Red Sox had. They weren't the most talented group, but they played together. They moved around in a pack of 25. That's what I see: These guys care about each other, inside and out. They know they're here for a big cause. Something special happens every day that makes you believe you'd see it continue."
Lovullo saw it Tuesday night as the Diamondbacks scored four runs over the final three innings to beat St. Louis 6-5 on Chris Herrmann's run-scoring single in the 10th inning. The same Herrmann who is batting .200 yet has seven RBIs -- nearly every one of them important -- in his past five games.
The same Herrmann who, with Jeff Mathis and Chris Iannetta, shares the catcher's position as part of an unusual three-man rotation. The spot looked to be offensively thin when the season began, but the three have combined for 17 homers and 51 RBIs.
The Diamondbacks anticipated production from Paul Goldschmidt and Jake Lamb, and they have gotten it as the two have combined for 127 RBIs. But the catchers' unexpected contribution helps explain why the Diamondbacks are one of baseball's biggest surprises.
Arizona has been the majors' hottest team since mid-May, going 29-11. The D-backs are 17-8 in one-run games and 7-1 in extra innings, where they have won six in a row.
"I believe we set a tone here that gives the impression that we never feel like we're out of any game," Lovullo said. "They believe they can score a bunch of runs very, very fast. I don't know when it evolved -- maybe it was Opening Day. They believe that any moment they can take over offensively."
Said Mathis: "Obviously, we never give up. We had a chance there at the end (Wednesday), we just couldn't quite get it done. But (we) ground it out, for sure."
Lynn hopes to limit that offense Thursday, the way he typically has. He is 3-0 with a 2.72 ERA in 10 games (eight starts) against Arizona.
He hasn't lasted more than 5 2/3 innings in any of his past six starts overall, but he has held opponents to two runs or fewer in 10 of his 15 starts. Batters are hitting .231 against him, the fifth-lowest average in the National League.
Lynn's last two outings, however, were ugly: a pair of losses in which he allowed seven runs each time.
Cardinals manager Mike Matheny is doing some experimenting in the series, such as using Rosenthal rather than Seung Hwan Oh to close out Wednesday's win.
"We're going to give some guys some opportunities," Matheny said. "We needed someone to come on and do the job, close the door. He's done it a lot, we know he has the stuff to do it, and he trusted himself and stayed through it."
Corbin is 2-1 with a 2.95 ERA in his past three starts and is 5-2 with a 3.19 ERA in nine starts at Chase Field. He last pitched Friday, taking the loss as the Philadelphia Phillies beat the Diamondbacks 6-1 for their only victory in seven games against Arizona this season.
In three career starts vs. St. Louis, Corbin is 1-1 with a 5.00 ERA.