Cardinals GM backs Palmer: 'I feel strongly he will bounce back.'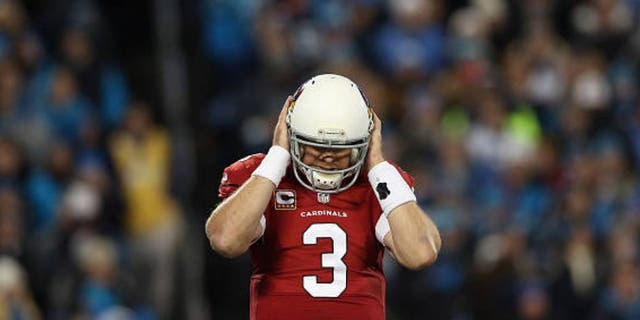 Arizona Cardinals coach Bruce Arians is not the only person in the organization's hierarchy who is confident that Carson Palmer will rebound from his disastrous performance in Sunday's 49-15 mauling at Carolina.
Cardinals general manager Steve Keim, appearing on his weekly radio spot Monday morning, told Arizona Sports 98.7 that he has no concerns over Sunday's debacle carrying into next season for Palmer.
"I feel strongly he will bounce back and be ready in 2016," said Keim, who also dismissed the notion that Palmer "choked" following a six-turnover, four-interception performance.
"I don't think he performed particularly well but I would say that goes for a lot of our players," Keim said. "You look at the big picture and some of our stars had a rough night. But make no mistake, we wouldn't have been in the position we were in without Carson Palmer and his play this year."
The 36-year-old Palmer struggled in both playoff games, but he also set career highs for touchdowns (35), passing yards (4,671) and quarterback rating (104.6) in leading Arizona to a 13-3 record, including a nine-game winning streak.
"There is nobody I respect and appreciate more than Carson Palmer," Keim said "In a league full of teams who are looking for a quarterback, I'm certainly proud he's our guy."