Cardinals defensive end can't wait to face New England's Jimmy Garoppolo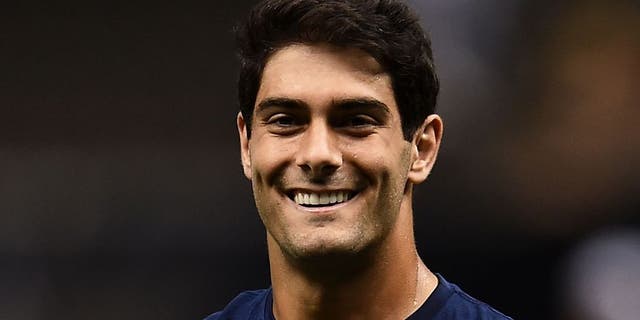 NEWYou can now listen to Fox News articles!
By now you've probably heard that Tom Brady will most likely serve his four-game suspension to start the 2016 season following the Second Circuit Court of Appeals' ruling on Wednesday. It's now up to the Supreme Court to save Brady from his ban, if it even chooses to hear his appeal, which most likely won't happen.
The suspension will give way to Jimmy Garoppolo as the starter for the first four weeks of the season. Garoppolo, who hasn't started a single NFL game in his two seasons, will be the first quarterback not named Tom Brady to start a game for the Patriots since 2008. For those tasked with playing New England, that's exciting given Brady's greatness.
The first team to get a shot at the Brady-less Patriots will be the Cardinals in Week 1. Their defense is loaded with speed, playmakers and pass rushers, which won't make Garoppolo's life easy. Calais Campbell, for one, can't wait to get his shot at the third-year quarterback.
"Licking my chops," Campbell said on CBS Sports Radio's Tiki and Tierney. "You get a rookie quarterback, it's always exciting when you get a guy like that for his first game because he's going to be nervous. He's probably going to be sitting there holding the ball a little longer or trying to get rid of it quick, throwing bad balls. As a vet, we definitely pride ourselves on welcoming [quarterbacks] the right way."
Of course, Garoppolo isn't a rookie as Campbell said, but he is with regards to game experience. He's attempted just 31 passes in his career and only has one touchdown. This past season, he played in five games but threw just four passes, one of which was completed.
No one has gotten a substantial look at what he can do thus far, which makes him such a huge mystery for the upcoming season. Will he light it up and throw for 300 yards each week? Or will he completely tank and crumble under pressure? Campbell and the Cardinals hope it's the latter.
Regardless of how performs, the Patriots will benefit from getting a chance to see what he can do in the future.