Cardinals camp report: J.J. Nelson makes fast impression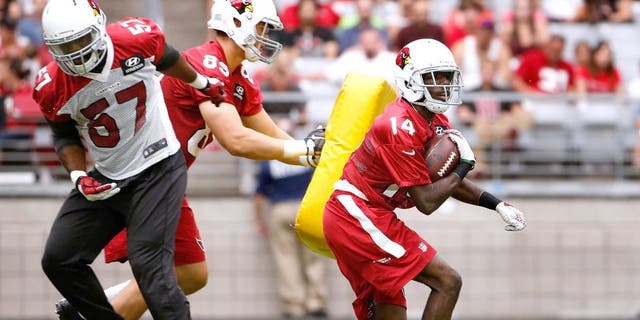 Thursday morning check-in from Cardinals camp:
Speedy Nelson makes an impression
Looks like Carson Palmer will have another speedy wideout at his disposal in 2015.
Last year it was John Brown; this season it looks to be J.J. Nelson.
Nelson, the Cardinals' fifth-round selection out of UAB, ran a 4.28 40-yard dash at the NFL Combine. Per his NFL.com draft profile: "Rail-thin slot receiver at the next level, but missing the suddenness and "after-the-catch" talent desired for that position. Getting drafted might be a long shot, but his kick-return numbers will have teams taking a close look at him as a specialist."
However, his teammates have been impressed with his playmaking ability thus far in training camp, particularly quarterback Carson Palmer.
"He may be real quiet and reserved, but I think he's got a little swag to him now," Palmer said of Nelson. "I think he's kind of realizing, 'Maybe I can play with these guys. Maybe I'm not too small. Maybe I'm not too skinny,' all the knocks you get as you're coming into the draft and all the negative things that come up about yourself when you're from a small school."
The opportunity is open for Nelson with Michael Floyd's injury affording more reps.
So far, the reviews are positive and the team is pleased with Nelson's progress.
(h/t NFL.com)
Coach-speak
Head coach Bruce Arians said Thursday that coaching intern Jen Welter has exceeded his expectations.
"We are happy to give her this opportunity, she's run away with it and done a really good job," he said. "She's been fantastic ... Players have embraced her as a coach, and they call her Dr. J."
-- Arians said Carson Palmer will play the first series of Saturday's preseason opener vs. Kansas City, Drew Stanton would play the remainder of the first quarter, Logan Thomas the second and third quarters and Phillip Sims the fourth quarter.
He said running back Andre Ellington was close to full speed and would play against the Chiefs, but rookie back David Johnson remains out.
He said the punting competition between Dave Zastudil and Drew Butler was virtually even and would be decided by their performances in preseason games.
--Arians' on the team's offensive line depth: "I don't think I've ever gone into a preseason game with a backup O-line this good."
Weatherspoon remains sidelined
Linebacker Sean Weatherspoon (hamstring) was expected to return to practice, but experienced a setback on Tuesday.
In the best interest of the team and for himself, Weatherspoon will remain sidelined.
"I want to practice and be out there with my guys, get that timing down with them," Weatherspoon said. "The main thing is, I'm on a one-year deal so I have to be healthy before I get out there. That's what it's all about."
The Cardinals signed Weatherspoon in hopes that he could recapture his pre-injury form.
The former first-round pick missed the entire 2014 season with a ruptured Achilles tendon he suffered while with the Atlanta Falcons.
(h/t AZCardinals.com)
Pass rushers have something to prove
Under Todd Bowles, the Cardinals loved to blitz. Heading into 2015, it likely won't change, even with Bowles now head coach of the New York Jets.
Calais Campbell, Alex Okafor, Frostee Rucker and offseason additions Corey Peters, Cory Redding and LaMarr Woodley make for a deep group up front.
The Cardinals recorded 35 sacks as a unit in 2014, which ranked 24th in the NFL. Campbell and Okafor combined for 15 sacks last season; Rucker recorded a career high five. Woodley has registered double-digit sacks three times in his career, but not since 2010.
Though the sack numbers might not show up in the box score, the Cardinals defense ranked fifth in points allowed per game (18.7) and 13th in rushing yards allowed per game (108.7).
"If you look on paper, we don't (have an elite pass-rusher)," Okafor said. "Calais (Campbell), he's a hell of a player, but outside of him we don't have the numbers. That's why I think it drives the D-line and the 'backers as a group, to get those numbers on paper and show people what we can do. I know we're capable of it."
(h/t AZCardinals.com)