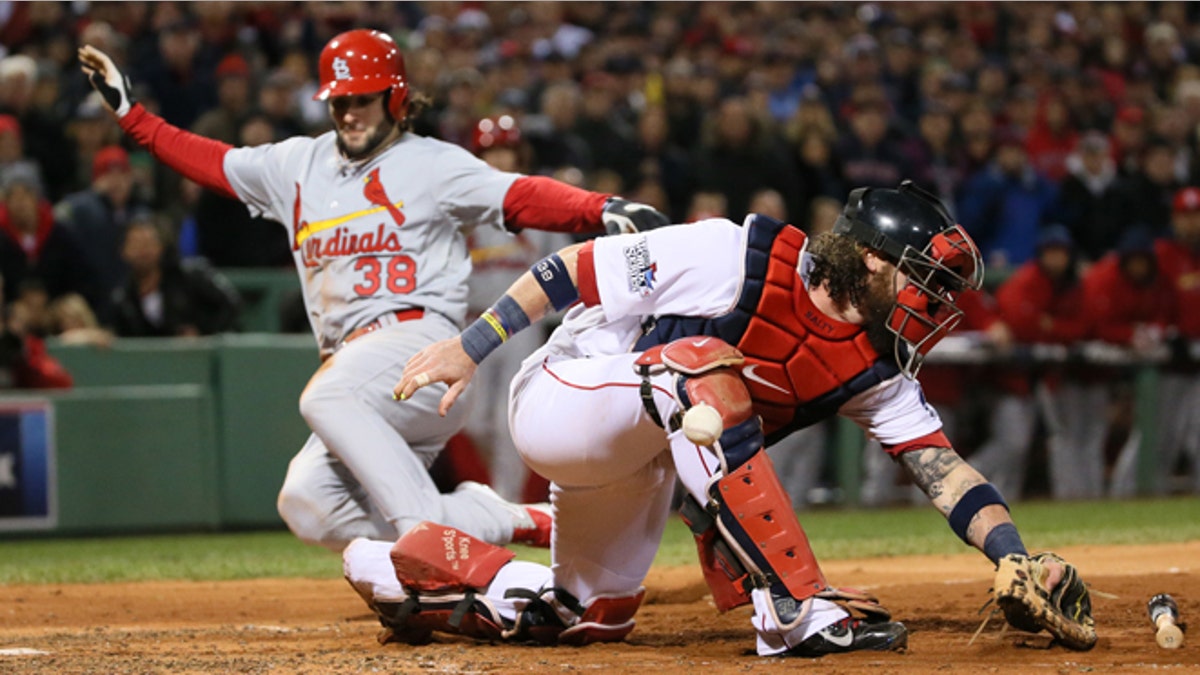 BOSTON – Michael Wacha and his Cardinals bullpen provided the power pitching. Carlos Beltran, injected with a painkiller, came through with a huge hit. And this time, it was the Red Sox who were tripped up by fielding failures.
Wacha bested John Lackey in a matchup of present and past rookie sensations, and St. Louis beat Boston 4-2 Thursday night to even the World Series at a game apiece.
"Somebody would have to kill me in order for me to get out of the lineup," said Beltran, undeterred by bruised ribs that landed him in the hospital a night earlier.
Matt Holliday tripled and scored on Yadier Molina's fourth-inning grounder, but David Ortiz put Boston ahead 2-1 in the sixth when he pounced on an 85 mph changeup for a two-run homer just over the Green Monster in left field.
That ended Wacha's scoreless streak at 18 2-3 innings -- a rookie record for a single postseason -- but it was all he gave up. Selected by St. Louis last year with the first-round draft pick received as compensation when Albert Pujols signed with the Los Angeles Angels, Wacha has been so good lately that a St. Louis restaurant he walked into had named a milkshake after him, the "Wacha Wacha."
The 22-year-old right-hander, the NL championship series MVP after beating Dodgers ace Clayton Kershaw twice, threw a career-high 114 pitches and allowed two runs, three hits and four walks in six innings with six strikeouts. He improved to 4-0 with a 1.00 ERA in four outings this postseason, matching the amount of regular-season wins he has in his brief career.
"They don't swing at bad pitches, really," Wacha said. "They did a good job tonight grinding out at-bats with me and got the pitch count up."
Wacha's parents and sister made the trip from Texarkana, Texas, and sat bundled in cold-weather clothes in the stands to watch the 19th pick in last year's amateur draft.
"He pitched outstanding," Molina said. "Just one pitch, to a great hitter like Big Papi."
But then Lackey, who in 2002 with the Angels became the first rookie in 93 years to win a World Series seventh game, faltered in a three-run seventh. St. Louis went ahead when Matt Carpenter hit a sacrifice fly that led to a pair of runs, with the second scoring on errors by catcher Jarrod Saltalamacchia and reliever Craig Breslow -- both making their Series debuts.
Beltran, an eight-time All-Star making his first Series appearance at age 36, followed with an RBI single. He had been sent to a hospital for scans Wednesday night after bruising ribs while banging into the right-field fence to rob Ortiz of a grand slam. Beltran appeared to be wearing protective padding under his jersey.
"When I left the ballpark yesterday, I had very little hope that I was going to be in the lineup with the way I felt," he said. "When I woke up, I woke up feeling a little better. And I came to the ballpark, talked to the trainer. I was able to get treatment and talk to the doctors, and find a way to try anything I could try just to go out there and feel no pain."
He said he took an injection of Toradol to block the pain for five or six hours.
"The good thing is tomorrow I have the day off," he said.
When the Series resumes Saturday night in St. Louis, Jake Peavy starts for the Red Sox and Joe Kelly for the Cardinals. Twenty-nine of the previous 55 teams that won Game 2 to tie the Series went on to take the title.
"Excited to get home. I know everybody is," Cardinals manager Mike Matheny said.
St. Louis' hard-throwing bullpen combined for one-hit relief. Carlos Martinez got six outs, retiring Mike Napoli on an inning-ending popup with two on in the eighth. Trevor Rosenthal struck out the side on 11 pitches in the ninth for a save, whiffing Daniel Nava with a 99 mph fastball to end it.
All three St. Louis pitchers were 23 or younger.
"It doesn't surprise me. Those guys got talent," Molina said. "Like I said before many times, they're not afraid to pitch."
Seeking its second championship in three seasons, St. Louis improved to 7-0 this postseason when scoring first and stopped Boston's World Series winning streak at nine. That run began with a sweep of the Cardinals in 2004, when St. Louis never led the entire Series.
This year's opener was more of the same, when the Cardinals made three errors and the Red Sox romped 8-1.
Lackey, pitching a day after his 35th birthday, returned this year after missing all of 2012 due to elbow surgery and beat Cy Young Award winners David Price and Justin Verlander in the AL playoffs. In his first Series appearance since his Game 7 win 11 years earlier, he couldn't hold the lead Ortiz gave him with his 17th postseason homer, his fifth this year.
David Freese walked with one out in the seventh and Jon Jay singled. Breslow relieved, and the Cardinals pulled off a double steal as pinch-runner Pete Kozma swiped third -- an uncharacteristically aggressive move for the Cardinals, who ranked last in the NL with 45 stolen bases this year.
Daniel Descalso, who started at shortstop after Kozma made two errors in the opener, loaded the bases with a walk. Carpenter followed with a fly to medium left, and Jonny Gomes' throw home was slightly to the first-base side of the plate as Kozma scored the tying run.
The ball glanced off Saltalamacchia's mitt as Jay took off for third. Breslow smartly backed up the plate -- he's likely the first major leaguer holding a degree from Yale with a major in molecular biophysics and biochemistry -- but he was slow to throw to third. And when he did let loose, the ball sailed over shortstop Stephen Drew covering the base and bounced into the stands.
"It just kind of sailed on me," Breslow said. "I've made a throw of that distance before."
Jay came home with the go-ahead run, and Descalso raced to third.
"We're human. It happens," Saltalamacchia said. "We saw them do the same thing last night. They shook it off and came out tonight and played well. That's what we're going to do."
Beltran singled to right for a two-run lead. With a bullpen that's held opponents to a .169 average in the postseason, that was enough.
"We've got to go out there and play better than we did tonight," Ortiz said. "Nobody can dictate that you're going to win four straight games every time you go out there for the World Series."
NOTES: The Red Sox had not lost in the Series since Game 7 in 1986 against the New York Mets. ... With no DH allowed in the NL ballpark, Boston manager John Farrell said Ortiz will likely play first base in Game 3. Napoli would sit. ... Victims of the Boston Marathon bombings were honored during the seventh-inning stretch as singer James Taylor led the crowd in "America the Beautiful."