Cardinals add four players to fill out 40-man roster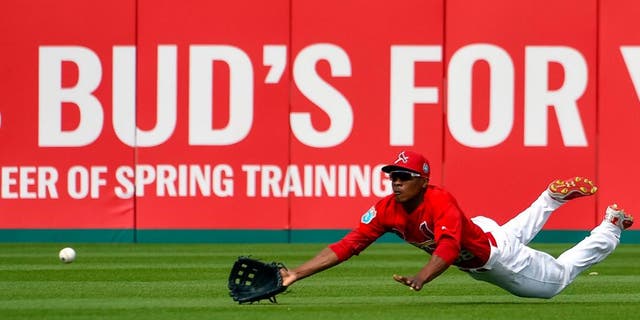 ST. LOUIS -- The St. Louis Cardinals added a quartet of minor league All-Stars to their major league roster Friday, bringing the number of players to the 40-man maximum.
The club announced it had purchased the contracts of outfielder Magneuris Sierra, second baseman Eliezer Alvarez, shortstop Edmundo Sosa and right-handed reliever Rowan Wick.
In addition, the team confirmed that left-handed pitcher Tim Cooney was claimed on waivers earlier Friday by the Cleveland Indians.
Sierra, Sosa and Alvarez were all members of the Peoria Chiefs in 2016, earning Midwest League (A) All-Star selections, while Wick, a former catcher converted to pitcher, gained Florida State League All-Star honors at Palm Beach (A) this past season.
Sierra, 20, batted .307 with a .335 on-base percentage and 31 stolen bases while scoring a league-best 78 runs in 2016. The left-handed hitter was the Cardinals' Minor League Player of the Year in 2014.
Sosa, 20, batted .270 in 97 games (88 with Peoria and nine with Palm Beach) last season. The 5-11, 170-pound shortstop is a native of Panama City, Panama and signed with the Cardinals in July of 2012.
Sosa teamed with Alvarez, 22, to form the keystone combo for the Chiefs in 2016. Alvarez batted a team-high .323 in 116 games with a .404 on-base percentage, .476 slugging percentage and .880 OPS. He led the Midwest League with 36 stolen bases this season and ranked second with 36 doubles.
Wick, 24, converted to pitching in 2015. He went 2-0 with a 2.44 ERA in 44 games (44 1/3 innings pitched) between Palm Beach (A) and Springfield (Double A) last season, striking out 57 batters and allowing just one home run and a .186 opponent's batting average. He was a Rising Stars selection in the prospect-laden Arizona Fall League earlier this month.
The Cardinals also announced Friday that they have signed five players to minor league contracts that include invites to major league spring training: OF/1B Chad Huffman, OF Todd Cunningham, INF Wilfredo Tovar, LHP Zach Phillips and RHP Kendry Flores.