Cardinals acknowledge need for QB of future but won't 'force it' in draft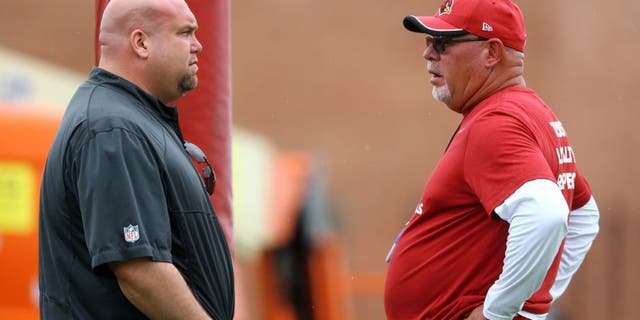 NEWYou can now listen to Fox News articles!
TEMPE, Ariz. -- Time is slipping away for the Arizona Cardinals in their quest for an heir-apparent to quarterback Carson Palmer.
Palmer is 37 years old. This coming season could well be his last.
General manager Steve Keim knows how important identifying and grooming Palmer's successor is to the viability of the franchise.
"I would like to keep my job for a while," he said. "I do have four small kids. … If you don't have a quarterback, you are not going anywhere."
Coach Bruce Arians has said he doesn't want to find the Cardinals in the same position they were in after Kurt Warner retired following the 2009 season.
The team wallowed in mediocrity under a succession of ineffective quarterbacks until Palmer arrived.
The ideal scenario would be for Arizona to acquire a young quarterback and have him learn behind Palmer for a year (or two).
But how to get one under the current circumstances is the Cardinals' quandary.
Arians said there are "maybe five or six" quarterbacks in this year's draft class that have the ability to be starting quarterbacks in the NFL.
"Probably the best group of arms in the last four or five years," he said.
But none of them is close to a sure thing.
And at least five teams picking ahead of Arizona's No. 13 selection are seen as needing a quarterback -- the Browns, 49ers, Jets, Bears and Bills.
The consensus top two candidates -- North Carolina's Mitchell Trubisky and Clemson's Deshaun Watson -- are likely to be gone by the time the Cardinals make their first pick. There's a good chance Patrick Mahomes of Texas Tech, who has the kind of cannon arm Arians loves, won't be there either.
That would leave Notre Dame's DeShone Kizer, who would be a big reach for the Cardinals at No. 13. Most mock drafts have him going late in the first round or early in the second.
But he probably won't be around when Arizona picks in the second round. Maybe Keim and Arians have their eyes on someone to choose later on.
Judging whether a quarterback can succeed in the NFL is an inexact science. Seven quarterbacks were picked before Dak Prescott was drafted by Dallas in the fourth round last year.
And, Keim said, teams are more likely to pick quarterbacks too high than any other position.
"People start taking quarterbacks just because they have to have one," he said. "They will take a guy that they must have had on their board in the first round that you had in the third or fourth round but he was the next best quarterback so they took the position over the player."
That's something Keim said the Cardinals would not do. They could well pick a player other than quarterback at No. 13. Linebacker Reuben Foster of Alabama was a trendy prediction, although he tested positive for diluted urine at the draft combine. Another possibility is linebacker Haason Reddick of Temple.
"We are not going to force it," Keim said. "We are going to take the best player available at 13 -- or nine if we trade up or 18 if we trade back. … When you get in a situation where you panic and force the pick, it will set us back from an organizational standpoint four or five years."
Arizona could trade up, especially because the Cardinals are expected to receive four compensatory picks next season due to players they lost to free agency this year. Or they could trade down and try to nab Kizer and get another pick. But a lot of teams want to trade down. The trick is finding the other team that would want to make that deal.
There have been suggestions that the Cardinals are better off waiting until next year, when the quarterback crop is supposed to be much better. That's not a good strategy, Keim said.
"You can look ahead and say there are two or three that we have watched on tape that are fantastic," he said. "But if they are picking one, two or three in the draft, and I hope we are not picking anywhere but 32, how are we going to get up there and get them?
"Even if we had 11 comp picks, that is not going to get it done. I just don't think you can rely on that. If you have a player you fell in love with (this year), you take them."