Cardale Jones explains how Ohio State 2-QB system came about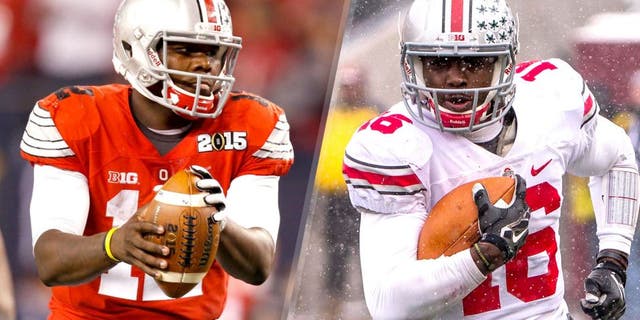 NEWYou can now listen to Fox News articles!
Urban Meyer said during the week leading up to Ohio State's game against Maryland there had been discussions about using J.T. Barrett as a red zone quarterback.
What were those like?
Starting quarterback Cardale Jones and offensive coordinator Ed Warinner explained following the Buckeyes' 49-28 win over Maryland on Saturday.
"Our program is a very open and honest program," Jones said. "(Meyer) said he was going on his Monday walk or something like that and he was just thinking, and he decided to actually ask us about it to see how we feel about it and then let us think about it for a couple hours. He called us back up to the facility and we gave him what we thought about it. Like I said before, he was right."
The first game trying the experiment with Jones playing most of the snaps and Barrett taking over as the team approached the goal line worked.
They were six for six scoring touchdowns in the red zone with Barrett accounting for three of those touchdowns on the ground. Jones also had one of his best passing days, completing 21 of 28 passes for 291 yards with two touchdowns and no turnovers.
"I think it can work," Jones replied when asked about long-term viability of the plan. "Coach Meyer does an unbelievable job of managing it. He makes sure both players are prepared for each situation. For instance, the plan was to improve our red-zone offense, and we had to add an extra element with the quarterback run, and that's something (J.T.) is unbelievable at doing."
Barrett was not made available for comment after the game, but according to Jones it all comes down to one thing for the quarterbacks, both of whom contributed to Ohio State's 2014 national championship but not at the same time.
"We just want to win," he said. "We want to do whatever it takes to win. If that means sacrificing playing time or swallowing egos, that's no problem with us. That's a testament to how we were trained all year round."
Warinner acknowledged managing such a situation can have its potential pitfalls.
"It's always a concern because they're human beings, but they're so unselfish and they're such great guys," the veteran coach said.
"We had conversations with them -- Coach Meyer had conversations with them about what we were thinking and we were reading what they say and how they react and how they respond and they were both great with just, 'Hey, we want to help this team win. What do you guys think? We'll do whatever.' So they're both really great people to work with."
It might not hurt that Meyer has experience with playing a starting quarterback with another in a specialty role. He did so in 2006 at Florida with Chris Leak and Tim Tebow, but Warinner said that was not brought up specifically last week to him.
"Well we all know he has that experience. but the discussions weren't really about Florida and those two guys, although they had a great run doing that," Warinner said. "It was just what can we do to improve our red zone offense? How can we get the ball in (the end zone)? How can we be more effective there?
"And we brainstormed and with Coach Meyer's past experience I'm sure the helped trigger the thought maybe that's J.T's role to be the red zone specialist."