Caps' third line lives life in the fast lane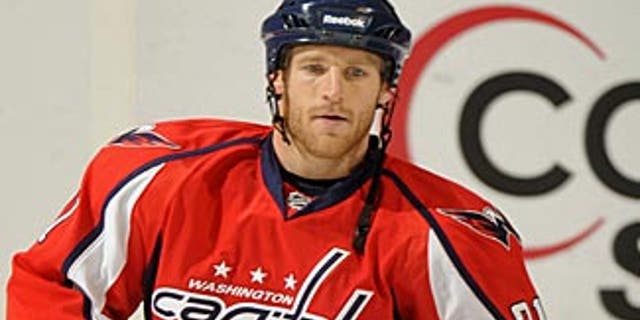 ARLINGTON, Va. -- Brooks Laich is pretty fast on skates -- certainly compared to an average person, and he's even above-average among his peers in the NHL.
When Laich is the slowest guy on his line, it is certainly a compliment for the other guys rather than a negative statement about his ability. The versatile Laich has played all three forward positions and on each of the team's top three lines this season, but he has landed on the left side of Washington's third forward unit at the start of the 2011 Stanley Cup Playoffs with rookie Marcus Johansson in the middle and Jason Chimera on the right.
It won't take more than a shift to see why these three work so well together -- it is all about speed.
"It is actually pretty easy [to play with them]," Laich said. "You can just throw the puck anywhere and those guys will wheel and go get it. I think we have good chemistry and communicate well on the ice. Jason and I play a pretty similar game. They're both fun to play with. Anybody who has speed and can get to loose pucks is enjoyable to play with because now every play is alive and the play never dies with guys like that."
Chimera's reputation as one of the fastest skaters in the League is well-deserved. If hockey had its own version of a straight-line measure of speed (like the 40-yard dash in football), Chimera would likely set the standard among NHL skaters.
Johansson is no slouch, either. His speed allowed him to make the Capitals' roster out of training camp despite no experience with North American pro hockey and has made him an effective player even when he's not producing points. He might be among the 5-10 fastest guys in the League as well.
"It depends on if it is a straight board-to-board race or an around-the-rink race," Capitals coach Bruce Boudreau said when asked who is faster. "I give Jason the edge now but I'd give Marcus the edge maybe next year."
Johansson deferred when asked the same question.
"Not when he gets his speed -- he is just flying," the Swedish rookie said. "I don't know if anyone is faster than him when they get their top speed. He's fun to play with."
Added Chimera: "He might have because he's a little younger, but I'll say I can still beat him. I don't know though. It is fun -- anytime that you can get on a line that goes north like that it is fun. They're both my kind of guys to play with."
Putting all of that speed to good use could make Washington's third line one of the most effective among the 16 teams still competing for the Stanley Cup. Chimera and Laich are two of the team's best forecheckers, and they don't shy away from the rough stuff in the corners.
Johansson flashes passing ability that draws comparisons to his countryman Nicklas Backstrom, but his best weapon to create chances for his linemates is his ability to skate away from defenders in open ice or when they think they have the young center lined up for a big hit along the wall.
"I think [Chimera] is the runaway fastest guy in the League," Laich said. "As a linemate you try to work with your linemates' strengths. For myself that is getting pucks in because he likes to forecheck and get after pucks and win those races. Anytime I can get him in a race, that's what he likes.
"Marcus likes to get the puck with speed. He likes swinging through [the neutral zone] so if I can get the puck on his tape with speed that helps accelerate his game."
Added Chimera: "It is probably one of the quicker lines that I've ever been a part of. Centers are so crucial to skating the puck up the ice and when [Johansson] is skating, there's not many guys who can keep up with him."
Laich said he thinks the line should create more chances in Game 2 against the New York Rangers on Friday night at Verizon Center (7:30 p.m., Versus, TSN, RIS) and the way to go about that is by shooting more. Chimera had one of the best chances of Game 1 when he collected a pass in the right circle during a 3-on-1, but his shot went sailing over the net.
He had another decent chance later in the game where his accuracy failed him, but the 3-on-1 was a great opportunity to get his team on the board.
"I went back and looked at it. Yeah, there's a lot of things I could have done differently," Chimera said. "I was going to one-time it, but it was too far back. Then I was going to shoot and I should have waited because he was too far out. I tried to force it too quickly to get it on net because he was sliding over. I'll get some more of those chances and I just have to bury them."
Another reason why the three of them could be effective is because of Laich's versatility. He is a natural center and would probably like to play there if given the preference, but he has often been too valuable as a second-line left wing opposite Alexander Semin or top-line right wing across from Alex Ovechkin, depending on injuries and roster construction.
Given the current lineup, Boudreau decided to drop him from the second line to the third and put trade deadline addition Marco Sturm in his place. Boudreau said one reason was for balance and added scoring punch on the third line, but Laich's background as a center also plays a big part.
Johansson has struggled at times this season in the faceoff circle as he adjusts to the NHL and even rules regulating draws that are different from his time in the Swedish Elite League. Boudreau is able to lean on Laich to take the important draws, and Johansson can cheat a little knowing that if he gets thrown out of the circle that Laich is there as a great Plan B.
Laich won 13 of 18 draws in Game 1, including 10 of 15 in the defensive zone.
"It is huge," Chimera said. "First-year guys might not have the strength or the experience to do it. A lot of guys make an art of winning faceoffs. I think Brooks is pretty good at it and [Johansson] is getting better, but when you've played six or seven years in the League you see different guys and different stuff you can do to win faceoffs. I think Marcus is still learning all of that stuff."