Caps, Rangers showdown will be contrast of styles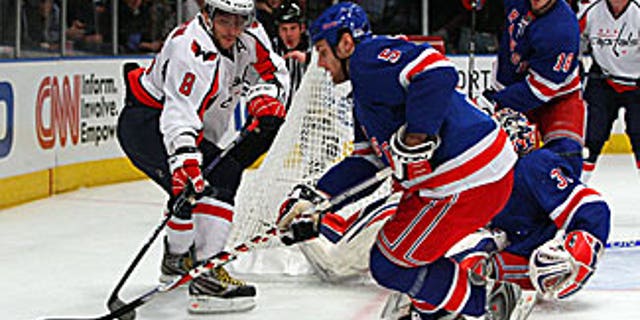 After last season's first-round upset at hands of No. 8 Montreal, it is unlikely that the Washington Capitals would take any opponent for granted this time around.
At least, it better be a lesson learned. The New York Rangers, this year's No. 8, is a dangerous opponent for the Capitals. The Rangers won the final three meetings of the four-game series by a combined score of 15-1.
This series will be a tale of offense against defense. Washington has the offensive superstars in the form of Alex Ovechkin, Alex Semin, Nick Backstrom and, maybe, defenseman Mike Green, while the Rangers will rely on the all-world goaltending of Henrik Lundqvist.
Washington's top three forwards -- Alex Ovechkin, Nicklas Backstrom and Alexander Semin -- all have had down years with their offensive production. Ovechkin has gotten closer to his typical level of dominance near the end of the season. Semin has zero goals in his past 14 playoff games, but new addition Jason Arnott could help him find some better scoring opportunities.
Arnott and Marco Sturm have made an already deep group of forwards even deeper. Increased contributions from Mike Knuble and Marcus Johansson in the final weeks of the season have made them more dangerous.
Marian Gaborik is the headliner, but injuries and inconsistency have hampered the elite scorer this season. But that hasn't prevented others from stepping up with offense.
Brandon Dubinsky had his best season as a professional despite missing time with a leg injury, posting 24 goals and 30 assists in 77 games. He's shown the ability to dominate with his size and strength, and it will need to continue in the playoffs.
Derek Stepan doesn't get talked about much when the conversation turns to rookies, but his 21 goals and 24 assists in his first season have been a pleasant surprise. Brian Boyle (21 goals, 14 assists) enjoyed a career season, as did Brandon Prust, who scored 5 of his career-high 13 goals while the Rangers were shorthanded.
The Rangers will be without perhaps their most important forward, however, as Ryan Callahan suffered a fractured leg with three games remaining. It will be tough to replace his 23 goals and 25 assists in 60 games, but it will be even harder to compensate for his shot-blocking ability and leadership in the postseason.
If everyone is healthy, the Capitals have gone from a team with a suspect defense corps to a club with a deep and talented one. Injuries are the biggest problem at this point. Mike Green has not played since Feb. 25 and only twice since Feb. 6 because of a pair of head injuries. Green might be ready for Game 1, but Dennis Wideman will not be because of a hematoma in his leg. Tom Poti hasn't played since mid-January because of a recurring groin injury, but he might be available in a pinch.
The young pairing of John Carlson and Karl Alzner has been the team's best duo this season, but getting the three injured veterans back would be a huge boost for Washington's title hopes.
There's talent on the blue line, but there's also a lot of inexperience. Outside of 35-year-old Bryan McCabe, the Rangers don't have a defenseman older than 27.
Marc Staal, 24, and Dan Girardi, 26, make up the team's top defensive pairing. They both log about 25 minutes of ice time per game, and Staal has developed into a better offensive player. He had a career high 22 assists and 29 points.
Rookies Michael Sauer and Ryan McDonagh have acquitted themselves nicely in their first seasons, but how they react to their first postseason action could have a huge impact on how far the Rangers advance.
McCabe was acquired at the trade deadline and is used mostly on the power play. Steve Eminger, 27, rounds out the regulars on the blue line.
Washington's management doesn't think the Capitals have one young goalie that can lead them to the Cup -- they think there are three guys who could do it.
Michal Neuvirth and Semyon Varlamov have been dueling for the Game 1 nod, but Braden Holtby has been fantastic in emergency duty and could end up factoring into the equation as well.
Varlamov has been good for the Capitals in the past two postseasons, but Neuvirth has won back-to-back titles at the AHL level. Expect both to play at some point this postseason.
Henrik Lundqvist started the Rangers' final 26 games. If the Rangers want to win the Stanley Cup, he'll likely have to start about 26 more in a row.
The 29-year-old had a Vezina-worthy campaign, going 36-27-5 with a 2.28 goals-against average and .923 save percentage.
There's no chance backup Chad Johnson sees the ice unless it's to relieve an ineffective Lundqvist. Johnson didn't get a single start after he was called up to replace Martin Biron, who was lost for the season after breaking his collar bone in practice on Feb. 28.
Bruce Boudreau's accomplishments during the regular season are beyond dispute. Boudreau has turned a last-place team at Thanksgiving into a division champion, collected four-straight Southeast titles and two regular season Eastern Conference crowns.
That said, Boudreau's teams have also lost three Game 7s on home ice and won only one playoff series in four tries.
Expectations are incredibly high in Washington, and Boudreau's work this postseason will, rightly or wrongly, be heavily analyzed.
John Tortorella asks his players to play a tough, physical style, and they oblige. He's got a Stanley Cup to his credit with the Tampa Bay Lightning, and his players have completely bought into his system. That trust could go a long way in the postseason.
Washington's once fearsome power play has lost its mojo, but the Capitals have so much talent that opposing teams will still be wary of it. Meanwhile, the once vulnerable penalty-killing unit has morphed into a strength. If the Capitals' power play were to rediscover its 2008-10 form -- before the 1-for-33 meltdown against Montreal last spring -- Washington would look a lot like an East version of Vancouver.
The power play at times has looked fluid and dynamic, but it has gone through several lengthy stretches where it couldn't score. It finished middle of the pack in the League at 16.9 percent, but it showed some improvement after McCabe was acquired. The penalty-killing unit ranked in Top 10 (83.7 percent) and their 11 shorthanded goals ranked among Top 5 in the League.
Mike Green, Washington -- The high-scoring defenseman has not played much in the past two months because of a pair of head injuries, but he could be in the lineup for Game 1. Not only does Green have two months of rust to shake off; he's got two years of suspect postseason performances to move past. The Capitals could be Cup champs if he's an elite player this spring, and they might not be able to score enough to advance past the second round if he struggles again.
Henrik Lundqvist, New York -- It's obvious and not very clever, but Lundqvist will need to be the best player on the ice for the Rangers to pull an upset. Marian Gaborik needs to raise his game, sure, but it won't matter if Lundqvist doesn't steal a game or two.
Capitals will win if... One of their three goalies takes the reins and proves that he can be the next relative unknown to navigate the treacherous NHL postseason with aplomb. A breakout performance from Alex Ovechkin certainly would be nice as well.
Rangers will win if... The offense finds consistency. There have been plenty of times this season when the Rangers exploded for six goals or more, but there have been too many times where the offense struggled to just get to three goals, which should be enough if Lundqvist is on his game.