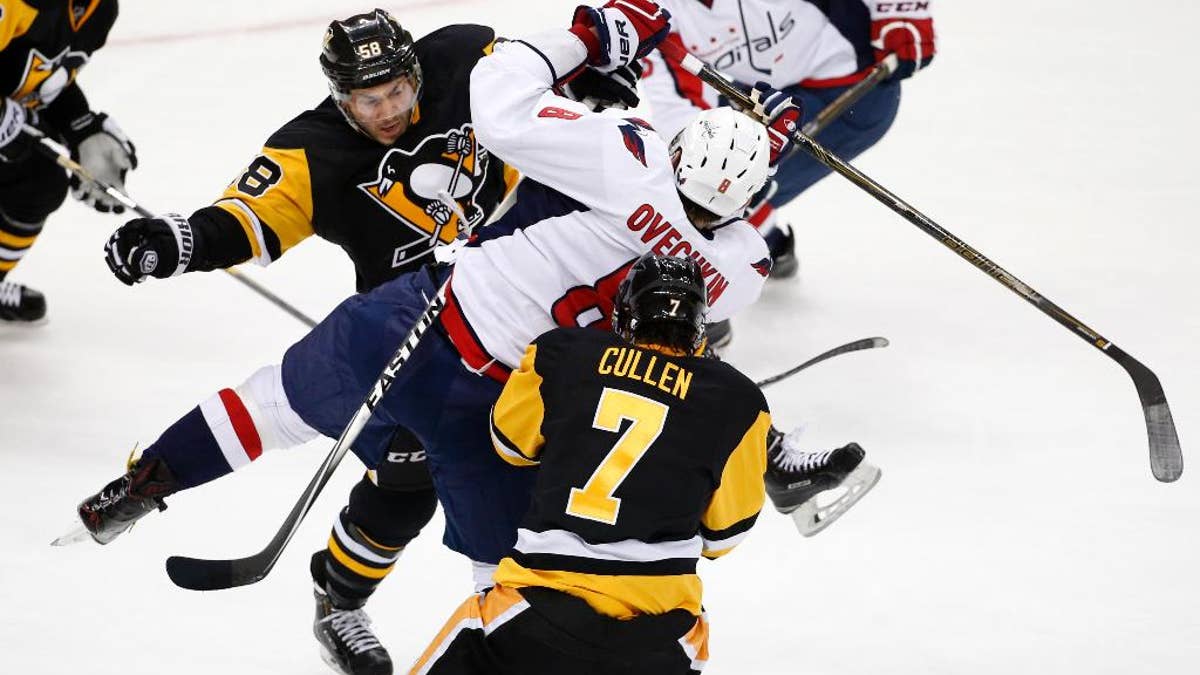 ARLINGTON, Va. – The Washington Capitals and Pittsburgh Penguins arrive at their latest showdown looking very much like they did a year ago.
It's the little things that might matter most this time around.
The Capitals added center Lars Eller and defenseman Kevin Shattenkirk as a direct response to losing their second-round series last season, hoping the depth will help against the defending Stanley Cup champions. The Penguins have a different goaltender with Marc-Andre Fleury replacing injured Matt Murray and are without injured defenseman Kris Letang.
Aside from those changes and a few other tweaks, the teams that take the ice Thursday night for Game 1 in Washington are strikingly similar to those who played for six games last spring.
"This is a unique situation — both teams have a lot of guys back," Penguins center Matt Cullen said. "It's not often with the salary cap and everything that you bring a similar team back. It makes for an interesting matchup."
The stars are again aligned for Alex Ovechkin, Nicklas Backstrom, Braden Holtby and the Capitals to face off against Sidney Crosby, Evgeni Malkin, Phil Kessel and the Penguins. Familiarity should breed quick contempt, but Washington's changes are what players think will flip the script.
"I feel better about our team going into it this year than I did last year, that's for sure," Capitals defenseman John Carlson said. "We can attack from different ways, and we can find ways to score throughout the lineup. I just think a lot of guys are playing better than they did last year."
That's a shout out to second-line center Evgeny Kuznetsov, who struggled after March last year but played an essential part of the first-round series this season against the Toronto Maple Leafs by defending Auston Matthews. Defensemen Dmitry Orlov and Nate Schmidt are also much improved after being scratched during the 2016 playoffs.
The Penguins are rolling again after eliminating Columbus, but the absence of Letang is significant after he logged 31:36 of ice time per game last year.
"Obviously they lost key player, Letang," Ovechkin said. "It's good for us, bad for them ... (but) it doesn't matter who's in the lineup. We just have to pressure them, and we don't have to give them any chances to get success."
Pittsburgh exposed Washington's lack of speed a year ago and has the potential to do so again even if winger Carl Hagelin isn't ready to start the series. The Maple Leafs' up-tempo style challenged the Capitals, something coach Barry Trotz called "a good warmup" for the Penguins, but it remains to be seen how his team will play faster this time.
Who's better off after a year of no change? Watch and find out.
"I think I guess the series will show that more than anything," Crosby said.
FLOWER POWER
Fleury went 4-1 with a 2.52 goals-against average and .933 save percentage against the Blue Jackets in the first round after replacing Murray because of a warmup injury prior to Game 1. The Capitals didn't see him last year because Murray didn't cede the net, but the Fleury has been so good there has been no drop-off.
OSHIE, PENGUINS KILLER
T.J. Oshie had five goals and an assist in last year's series and three goals and seven assists in four games against the Penguins this season. Facing Pittsburgh's top competition seems to get Oshie clicking.
"Typically we're going against Crosby's line and that's a tough task, he's a great player," Oshie said. "You can get motivation from that and kind of the game within the game. Last few years, the puck found the net for me and hopefully it will be the same."
PUT IT IN PENCIL
Penguins coach Mike Sullivan shifted his lines, putting Patric Hornqvist on right wing with Crosby and playoffs leading goal-scorer Jake Guentzel and dropping Conor Sheary down to skate with Nick Bonino and Scott Wilson. Pittsburgh again has four scoring lines with Malkin, Kessel and Bryan Rust together and Cullen centering Chris Kunitz and Tom Kuhnhackl.
"Sometimes when certain line combos have history of success together, we tend to give those lines a little bit more time to work through the challenges," Sullivan said. "That's something we have daily discussions about, (a) question I always ask, which combinations are going to give us the best chance to win."
STOP, ELLER TIME
The Capitals sent two second-round picks to the Montreal Canadiens for Eller specifically for this kind of series. Pittsburgh got five goals at even strength from its third line of Hagelin, Bonino and Kessel and two more from Cullen and his fourth-line mates last year, while Washington's bottom six combined for two goals.
Enter Eller, who is a good penalty killer and should be an offensive upgrade over Mike Richards.
"I can't wait for that challenge," Eller said. "I think a lot of guys in here have pictured that this is a spot we could end up being in, facing this team sometime in the playoffs and now is that time."
___
AP Sports Writer Will Graves in Pittsburgh contributed.
___
More AP NHL: https://apnews.com/tag/NHLhockey
___
Follow Hockey Writer Stephen Whyno on Twitter at http://www.twitter.com/SWhyno