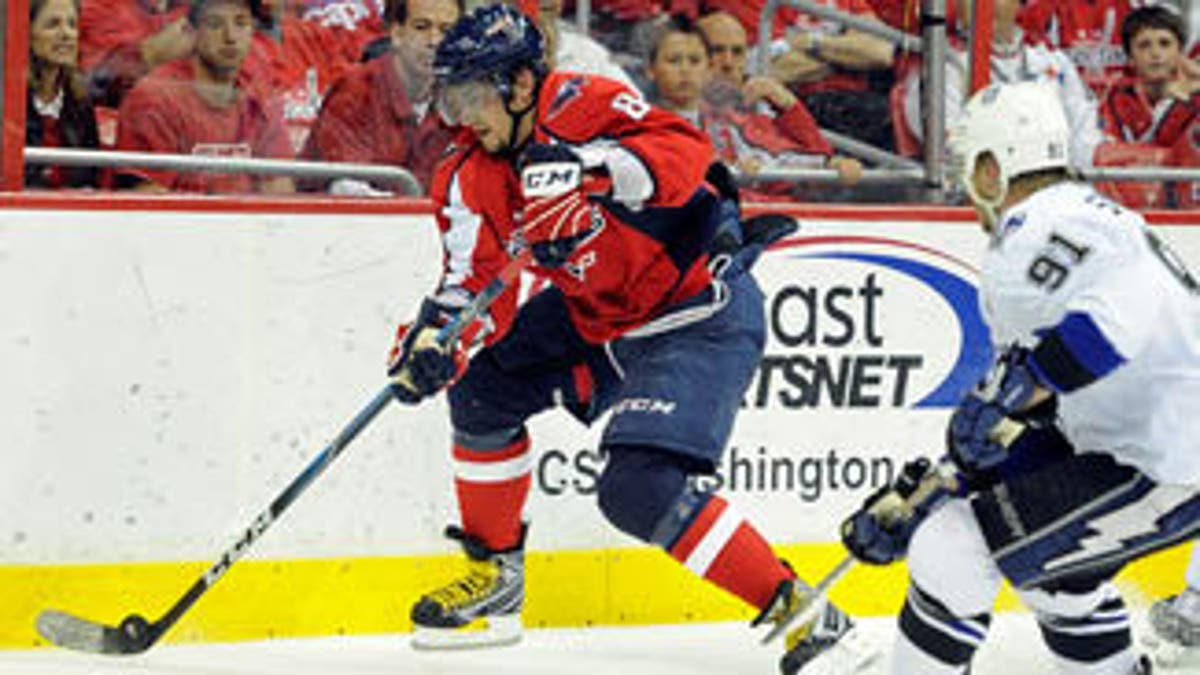 ARLINGTON, Va. -- For five games the Washington Capitals had to deal with the physical style of the New York Rangers, knowing if they didn't work hard enough below the circles in the defensive end it would cost them.
It only took about six minutes in Game 1 of their second round series to see the Capitals would face a much different challenge from the Tampa Bay Lightning. While the Rangers' offense almost always started by getting the puck below the goal line and working to create chances from there, the Lightning are much better equipped to find scoring opportunities off the rush and in other creative situations.
"They have more offensive guys than the Rangers," Matt Bradley said. "The Rangers were more dump-and-chase, create plays down low in our zone. These guys are capable of making plays off the rush. You really have to have that back pressure and make sure you don't give up odd-man rushes."
Tampa Bay created more chances after carrying the puck into the zone in Game 1 than New York did in those five first-round games combined. The Lightning, led by Martin St. Louis, Steven Stamkos and Vinny Lecavalier, look for cross-ice passes and one-timers from places other than the slot with far greater regularity than the Rangers did.
Defending the Rangers' attack was a lot of hard work, but it was also relatively simple: win battles along the boards and have guys covered in front of the net. New York often looked to cycle the puck and then find a guy in front for a one-timer, and more than half of the Rangers' goals in the series came from plays that started behind the net.
Dealing with Tampa Bay's creativity will take a lot more understanding of defensive positioning and identifying players in dangerous areas.
"You have to kind of know -- like on a 3-on-2 for instance when a guy drives to the net you can kind of give that guy the drive a little and wait for the high guy to see if he gets the puck," defenseman Karl Alzner said. "But they're always looking for that guy who is driving to the net so you have to play it a little bit differently. If they do drop it to the high guy you have to either hope the goalie will make the save or try to get out and block it yourself. They play their 3-on-2s the right way."
Added Bradley: "They've got guys where if you see a guy like Stamkos peel off and then a guy like Lecavalier has the puck or St. Louis, there's a good chance they're going to get him the puck. You have to try to be in a [passing] lane or get over to him."
Part of the reason Tampa Bay is so good at executing odd-man rushes is the Lightning have a lot of practice. Their defensive system is predicated on laying back and waiting for the opposing team to make mistakes.
When teams do, as the Capitals did after taking a 2-1 lead in Game 1, it often leaves lots of open space going the other way on the counterattack.
"It was too many turnovers for us and trying to get across the blue line or going offside and making play when you can't," Alzner said. "They make it pretty much impossible at times to make plays going into the zone."
Added forward Eric Fehr: "It is a bit tougher for us. We have to switch gears a little bit. With the Rangers we knew we had to hurry back and make quick plays. Now we have a little bit more time but we have to be better in the neutral zone. It takes a little bit of an adjustment but hopefully it is one we can make.
"They have three guys across the blue line and we can't really stick-handle into the zone. That's been our game the past couple of years so we're going to have to make an adjustment. If we make the proper adjustments we can get into the zone."
Washington played Tampa Bay six times this season, so the Capitals were already quite familiar with coach Guy Boucher's tactics. The problem in Game 1 may have been the stark contrast of how the Capitals had to play defense against the Rangers and how they will have to defend the Lightning.
"They're two totally different teams," Capitals coach Bruce Boudreau said. "There is an adjustment, but that's not an excuse. We played them six times and beat them four times, or three times in regulation anyway. We should have already known about the adjustments we had to make."