Caps' Holtby tops 'Three Stars' of the week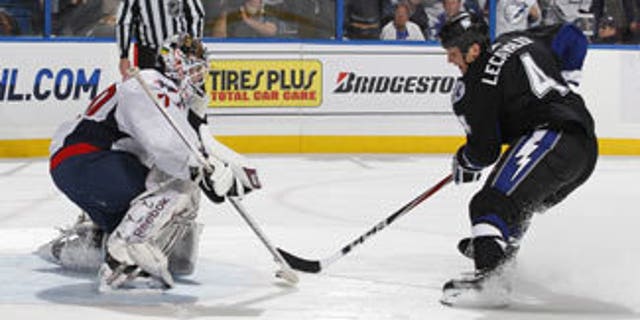 NEW YORK – Washington Capitals goaltender Braden Holtby, Vancouver Canucks left wing Daniel Sedin and Anaheim Ducks right wing Corey Perry have been named the NHL's 'Three Stars' for the week ending Mar. 13.
FIRST STAR – BRADEN HOLTBY, G, WASHINGTON CAPITALS
Holtby posted a 4-0-0 record, 1.05 goals-against average, .965 save percentage and one shutout as the Capitals (40-20-10, 90 points) moved into second place in the Eastern Conference. Holtby stopped 110 of 114 shots last week, beginning with a 20-save performance in a 2-1 victory over the Tampa Bay Lightning Mar. 7. He recorded 22 saves in notching his first career shutout, backstopping Washington to a 5-0 win over the Edmonton Oilers Mar. 9 and stopped 40 shots as the Capitals defeated the Carolina Hurricanes 2-1 on Mar. 11. Holtby finished the week by recording 27 saves as Washington defeated the Chicago Blackhawks 4-3 in overtime, Mar. 13. The 21-year-old native of Lloydminster, Saskatchewan has appeared in 12 games for Washington, posting a record of 8-2-2 with a 1.95 goals-against average, .931 save percentage and one shutout.
SECOND STAR – DANIEL SEDIN, LW, VANCOUVER CANUCKS
Sedin led the League in scoring with eight points (three goals, five assists) as Vancouver (45-16-9, 99 points) won all three starts and remained first in the overall NHL standings. Sedin began the week by notching three assists in a 4-3 overtime victory over the Phoenix Coyotes Mar. 8. He recorded one goal and one assist in a 5-4 shootout victory over the San Jose Sharks Mar. 10 and followed up with a two-goal, one-assist effort in a 4-3 victory over the Calgary Flames Mar. 12. Sedin leads the NHL scoring race with 89 points (37-52--89) in 70 games.
THIRD STAR – COREY PERRY, RW, ANAHEIM DUCKS
Perry led all goal scorers with five and added two assists as Anaheim (37-27-5, 79 points) won twice in three starts. Perry scored in each game, beginning with two goals and one assist in a 5-2 victory over the New York Rangers Mar. 9. He recorded one goal and one assist in a 6-2 win over the Colorado Avalanche Mar. 11 and finished the week with a two-goal effort in a 5-2 loss to the Phoenix Coyotes Mar. 13. Perry ranks fifth in League scoring with 75 points (36-39--75) in 69 games.