Canucks' top players need to step up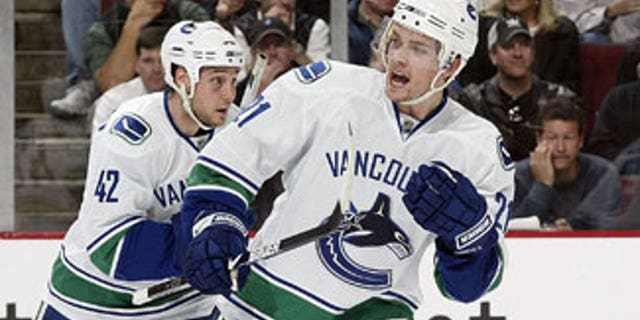 VANCOUVER -- If the old adage that your best players need to step up in the biggest games is true, it's time for the likes of Ryan Kesler and Mason Raymond to do so, along with the Sedins.
Kesler and Raymond have combined for no goals and 5 assists in the first six games of their best-of-7 series with the Chicago Blackhawks.
The duo combined for 56 regular-season goals; however, numbers can be deceiving -- a closer look shows 33 of Kesler's 41 and 13 of Raymond's 15 came against non-playoff teams.
"I don't think you can base how everything goes on point production," said Raymond, who will be playing in his first career Game 7 on Tuesday night. "That's neither here nor there right now. It's basically as a group now, one-game elimination, and we have to be prepared to go out tonight and play well."
Kesler has been matched up predominantly against Blackhawks captain Jonathan Toews, who has just 3 assists and is a minus-4 in the series. Toews has the edge in the faceoff circle, winning 56.8 percent of his draws, while Kesler leads all Canucks centers at 49 percent.
"He's obviously an elite player," Kesler said. "I respect him a lot and it's been hard keeping him off the board."
Many have pegged Kesler as a shoo-in to win the Selke Trophy as the League's best defensive forward for the regular season.
"It's been a good battle," Toews said. "Obviously he's a good offensive player and he's been playing smart defensively. He has been really good with his stick and making sure he's taking away some of those opportunities.
"Sometimes it just comes down to outcompeting the guy you're up against, and obviously he's one of those guys I've been seeing all series."
In addition to Kesler and Raymond, the Sedins know they have to pick up the slack in the biggest game of the season.
Daniel and Henrik have combined for 2 goals, 1 assist and a minus-13 rating in the three losses while Vancouver has been outscored 16-5 in those games.
"We need guys to score goals, that's the bottom line," Henrik said. "I don't think we care who scores, but if we can step up and produce the way we can it's going to help us, for sure.
"It's unfortunate, but that's the way it is. It's playoffs, we thought it was going to be a long series and this is where we are."
Since 2003 the Canucks are 2-4 in Game 7 situations, all of which have taken place in Vancouver. In nine Game 7s all-time the Canucks are 5-4.