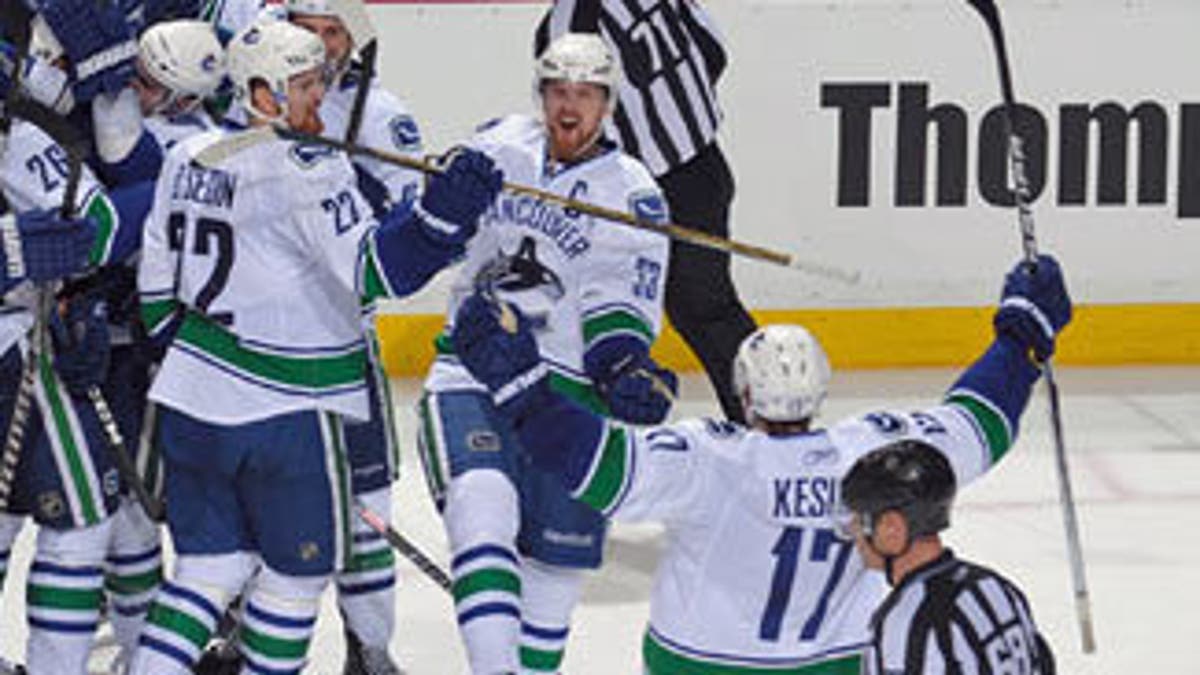 NASHVILLE, Tenn. – For the first time in this Western Conference Semifinals series a team scored three goals in a game. All three happened to come from the Vancouver Canucks' second line.
Ryan Kesler, a 41-goal scorer during the regular season, broke out of his nine-game postseason drought with two power-play goals, including the OT winner, and linemate Chris Higgins got the other – with the primary assist to Kesler – in Vancouver's 3-2 overtime victory in Game 3 against Nashville on Tuesday night.
"I thought he'd get a lot more goals than he has, but I think everyone in this locker room knows how important he is to this team and how well he's been playing for us," Higgins said of Kesler.
The third member of the line, Mason Raymond, was plus-1 in 19:38 and had six shots on goal as the Canucks grabbed a 2-1 lead in the series.
"I thought the whole line tonight was really strong," Canucks coach Alain Vigneault said. "I think Chris Higgins played one of his best games since he's been with us. That whole line with Kesler, Mason and him, they had some quality chances. They competed real hard and that's what we expect from them."
Following Vancouver's morning skate on Tuesday, associate coach Rick Bowness talked about Higgins and how Vigneault had had a "pretty straightforward conversation" with him about he had been on five different teams over the last three seasons. Vancouver acquired him at the trade deadline from Florida for Evan Oberg and a third-round pick.
"When I lived on Long Island my son Ryan (now an Atlanta Thrashers executive) played with Higgie in Pee Wee," Bowness said of Higgins, a Long Island native. "He's a smart hockey player. He's very confident with the puck.
"You get older, you should be more effective on the ice. Once you play on your third, fourth team that should get your attention. Both (Higgins and fellow former Montreal Canadien Maxim Lapierre) have stepped in and we're thrilled we've got them. They've been huge factors for our success."
Higgins got his goal – his third of the postseason – by driving the net hard and earning a delayed penalty call. With Nashville goalie Pekka Rinne out of the net, Kesler got the puck to Higgins who put it in an open net.
"We won a lot of battles," Higgins said. "We worked pretty hard. I don't think anyone was particularly happy with the way we played Game 2 so going up with a huge effort. Mason and Kesler had a huge effort for us."
During the series, Nashville coach Barry Trotz has often tried to match up his top defensive pair of Shea Weber, a Norris Trophy finalist, and Ryan Suter, the team's leader in plus/minus at plus-20, against the Kesler line – rather than against the Canucks' top unit, including the Sedin twins.
On this night, it wasn't enough.
"They got a couple of really strong (defense) in front that you've got to battle with and they have some really hard-working guys over there," Kesler said. "I thought we worked really hard and deserved this one tonight."
Kesler's power-play goals were Vancouver's first of the series with the man advantage.
"It was great," Kesler said. "It was good to get our play going again. It's not been struggling, but we haven't been scoring. It's good to get a couple and get the confidence back."
The same could also be said of him.