Canucks react to Vigneault's Adams nomination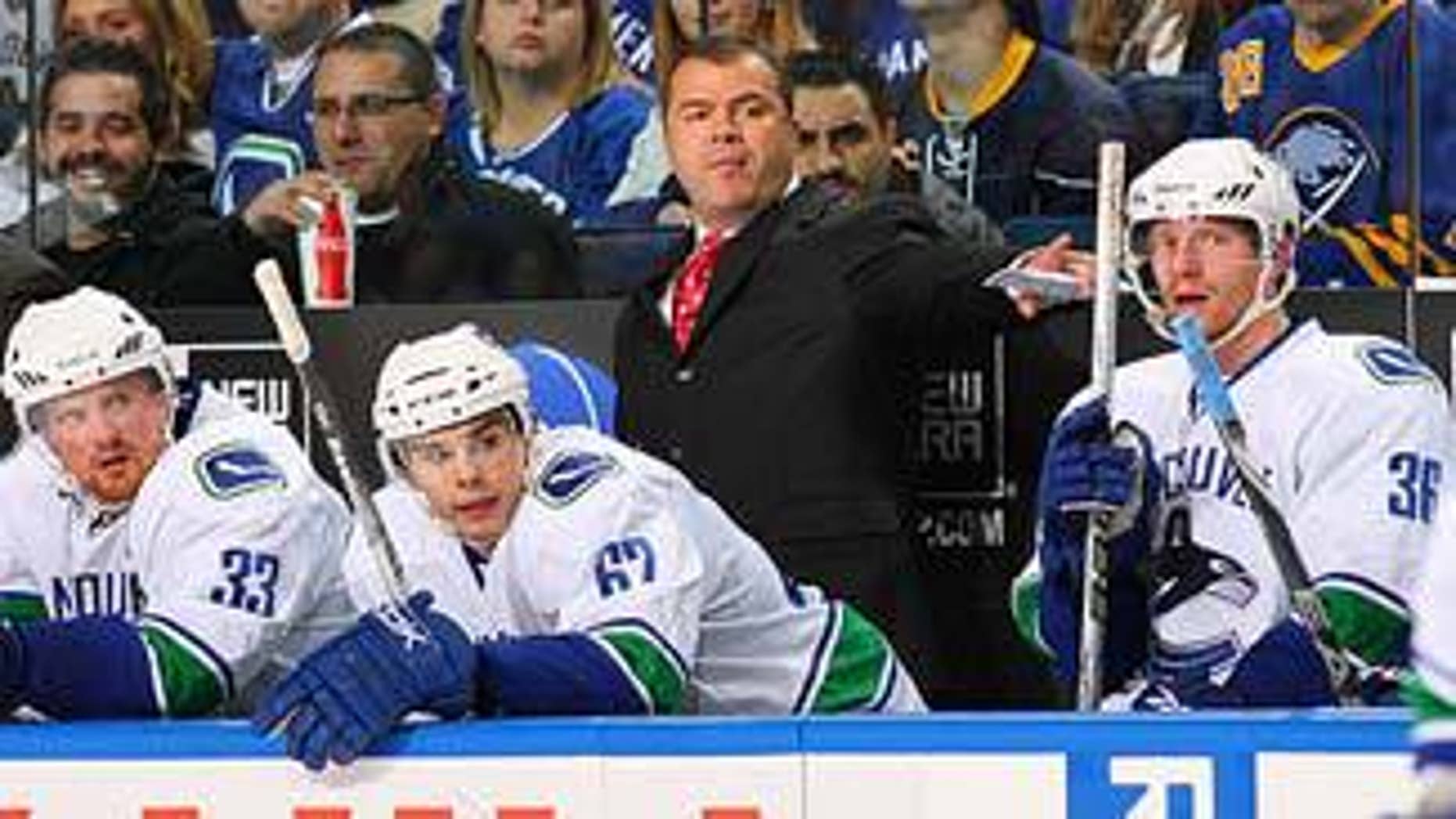 VANCOUVER -- For the third time in his career Canucks head coach Alain Vigneault has been named a finalist for the Jack Adams Award as coach of the year.
Vigneault led the Canucks to their best regular season in franchise history as Vancouver captured its first ever Presidents' Trophy with 117 points.
On Friday morning, after an optional skate, players weighed in on their coach's accomplishment.
Alexandre Burrows, who played for Vigneault during his only season with the Manitoba Moose -- Vancouver 's AHL affiliate -- believes his coach is worthy of the award.
"Well-deserved, obviously," Burrows said. "He's been with this group for a long time and really done a good job all year with us and you can see that by how many points we racked up or special teams and that kind of thing."
"Well-deserved and hopefully he'll get it.
Maxim Lapierre, who played for Vigneault during the pair's time with the Prince Edward Island Rocket of the QMJHL, doesn't see much change in his coach.
"He's pretty much the same guy," Lapierre said. "He wants to win really bad and he's really calm and relaxed behind the bench. He didn't change a lot."
The Canucks set franchise records for most points, most wins and most road victories. Vancouver led the League with the most goals (262) and the fewest goals allowed (185).
In addition to winning their third consecutive Northwest Division title, the Canucks had the top-ranked power play at 24.3 percent and were tied for second in the NHL in penalty killing with an 85.6 percent success rate.
"I think that's always a reflection of the quality of the players, quality of the coaching staff, and the management that you work with," Vigneault said Friday afternoon. "It's really just a team recognition in my mind."
Vigneault won the award in 2007 with the Canucks and was second in voting when he was nominated in 2000 with the Montreal Canadiens.
"If you're going to survive in this business, you have to get better every year otherwise you're going to fall behind the pack," Vigneault said.
"Every year that I've been in this business I've tried to get better and you do that with the people that surround you, the people you surround yourself with, and I've had some great people work with me."