Canucks look to silence questions in Game 6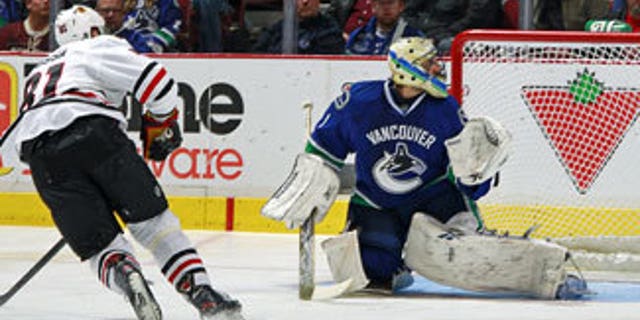 CHICAGO -- After two days of looking back and analyzing what led to their dreadful performances in Games 4 and 5, the Canucks are not surprisingly amped up and looking ahead to Game 6 against the Blackhawks Sunday night at United Center.
The catch is that until the Canucks prove they can put the hammer down on the Hawks they will always be reminded of the past.
"Until we go out and prove it there will always be those questions," Canucks coach Alain Vigneault said. "I can defend my players all I want right now, at the end of the day they've got to go on the ice and prove it."
At various times throughout these last five tumultuous days since losing 7-2 here in Game 4 the Canucks have referenced their success during the regular season, how they've proven they can absorb any type of punch thrown at them and still win hockey games, still win the Presidents' Trophy.
The Capitals were saying the same things at this time last year after winning the Presidents' Trophy, but they blew a 3-1 series lead to Montreal and lost in seven games.
The Canucks, of course, are on the verge of blowing a 3-0 lead and are one loss away from having to play a Game 7 in a series that looked all but over a week ago.
That it's happening against the team that has knocked them out of the playoffs in each of the past two seasons means the Canucks are carrying the extra burden known as intense pressure. Will they ever be able to slay the Blackhawks?
"We want to prove that tonight," Canucks defenseman Christian Ehrhoff said. "That's definitely the question right now."
With two days of extensive video work behind them, the Canucks insist they know exactly what got them to this point and precisely how to get out of this series with their pride still very much in tack.
"They outworked us in the last couple of games and obviously played more desperate hockey than us," defenseman Sami Salo said. "We have to find that in our game.
"We haven't been very committed in the one-on-one battles. We have to get that back, a little more desperation."
Salo went on to say that he thinks the Canucks relaxed with a 3-0 lead, that "maybe we thought things were coming too easy." He admitted the last two games have provided wakeup calls for the NHL's best regular season team.
"We got embarrassed and we want to make up for that," Ehrhoff said.
Roberto Luongo also got embarrassed with Vigneault having to go to the bullpen in both Games 4 and 5. Luongo has given up 10 goals on 40 shots in 65-plus minutes over the last two games.
Luongo will start Game 6, and Vigneault stood 100 percent behind the Vezina Trophy finalist during his morning availability.
"Roberto is our goaltender," he said. "It's that simple."
And Henrik and Daniel Sedin are their best forwards, yet neither of the twins have done much in the last two games with Blackhawks center Dave Bolland following them around. Along with Alex Burrows, Vancouver's top line combined for 1 goal and a minus-11 rating in Games 4 and 5.
"Like the rest of the team, we've got to play better, that's the bottom line," Henrik said Sunday. "I thought our first game wasn't great, but Games 2 and 3 we stuck to the gameplan, we created chances from playing good defense and that's what we need to do. The last two games, like everyone else on our team, we haven't done the things we need to do to be successful."
Follow Dan Rosen on Twitter at: @drosennhl