Canucks look to repeat rare piece of history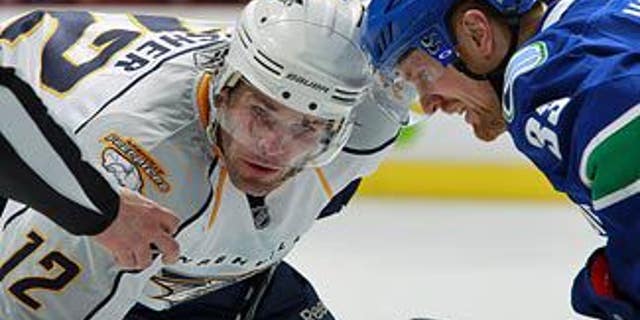 NEWYou can now listen to Fox News articles!
After just three games this postseason, the Canucks looked to be off and running as they started their hunt for the franchise's first ever Stanley Cup. Vancouver had jumped out to a 3-0 series lead against the defending champs, a lead that prior to this season led to a series victory in all but three out of 162 instances in NHL history.
And then it happened. Chicago got on a roll, and suddenly the Presidents' Trophy-winning Canucks were on the brink of elimination after seeing their lead disappear ahead of a decisive Game 7 Tuesday night. While the occasion of a team rallying all the way back from a 3-0 deficit is rare, with last year's historic comeback by Philadelphia in the Eastern Conference Semifinals still fresh in everyone's memory, nerves were frayed in British Columbia. Of course, Vancouver would eventually prevail, but even Game 7 didn't come without some agita, as Chicago's Jonathan Toews forced overtime with a late shorthanded goal before Alexandre Burrows' series-clinching blast.
With the outpouring of relief at Rogers Arena Tuesday, it almost seemed an afterthought that Vancouver still has at least one more -- and if things go according to plan, three -- series to play this spring, with Nashville being next in line. Many are suggesting the Canucks could become the victim of a euphoric letdown. After all, no Stanley Cup champion has gone seven games in the first round since the 1992 Pittsburgh Penguins, but Vancouver's first-round roller coaster could actually have been a boon.
The Canucks now have the opportunity to repeat an unusual bit of history. In defeating the Blackhawks, Vancouver became just the fourth team in NHL history to watch a 3-0 series lead disappear, but still win Game 7. The other three all happen to share one glaring bit of common fortune.
They all won the Stanley Cup.
The 1939 Boston Bruins ran out to a 3-0 lead on the New York Rangers in the 1939 semifinal round before getting pushed to a Game 7, a game they didn't win until Mel Hill scored in triple overtime to earn Boston a berth in the Final. It was Hill's third overtime goal of the series, a performance that earned him the nickname "Sudden Death." The Bruins would respond by defeating Toronto in five games to take their second Stanley Cup.
Six years later, the Maple Leafs jumped ahead of Detroit 3-0 in the Stanley Cup Final, prompting Red Wings vet Mud Bruneteau to comment, "The Leafs can't be that good, we'll have to win four straight." If any team knew it was possible, the Wings certainly did. In the 1942 Stanley Cup Final, the Wings were on the short end of the ledger when Toronto became the first team in North American professional sports to rally from a three-game deficit to win a series. Detroit gave it its best shot at returning the favor, but ultimately came up short when Babe Pratt scored the winner for Toronto in Game 7.
The phenomenon wouldn't occur again until 1975 when Philadelphia took a 3-0 lead against the New York Islanders. If they Flyers thought they had it wrapped up they probably should have been more wary -- the Isles had come back from a 3-0 deficit the round before against Pittsburgh. Sure enough, New York pushed the defending champs to the limit before Philadelphia finally took Game 7 and then won its second straight title.
The Canucks do have the notable handicap of being the first team to face this particular set of circumstances in the first round since the postseason expanded to its current format, but that's unlikely to be an excuse if Vancouver doesn't bring Stanley home after a 117-point regular season.
Regardless of whether they do, however, one thing is for sure -- the Canucks are already in good company.