Canucks get right back to work preparing for Preds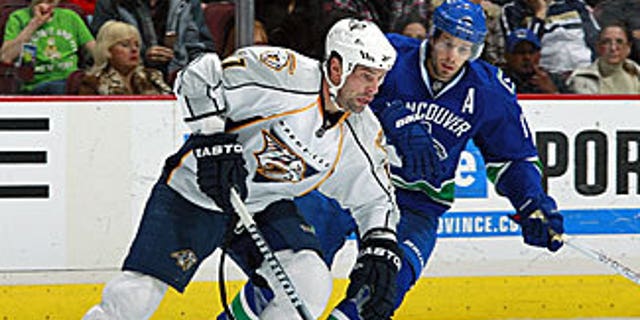 VANCOUVER, B.C. -- While the city was still getting over its collective hangover after Tuesday's emotional, roller-coaster overtime win, the Canucks arrived at Rogers Arena early Wednesday afternoon insisting they were ready to get back to work.
"We don't have a choice," Ryan Kesler told NHL.com. "We have to."
The celebration after Alex Burrows scored the overtime winner in Game 7 against the Blackhawks was fun, exhilarating and 100 percent memorable -- but it was also yesterday's news. The Nashville Predators were en route to Vancouver when the Canucks gathered for a team meeting, and the focus was squarely on them and the next task at hand.
"It was really nice and special, but our ultimate goal was not to win just Round 1," Roberto Luongo said about 14 hours after finishing of his signature win as a Canuck with 31 saves in Game 7. "We've got a long way to go. That was just the first round, and by no means are we satisfied with that."
This didn't sound like just talk from the Canucks either, but if Wednesday's media availability taught us anything it's that moving on won't be easy for them because this city isn't ready to forget about what happened against the Blackhawks.
While the Canucks wanted to talk about Nashville and the second round, they instead faced a lot of questions about beating Chicago, overcoming that mental hurdle and battling the adversity of winning three games and then losing three games before beating the odds in Game 7.
The story of Luongo not starting in Game 6 was still a topic of conversation. Kesler's one-on-one battle with Jonathan Toews was brought up, as was Burrows' crazy rope-a-dope night before he became the overtime hero.
"It was one of the most up-and-down series I have been a part of," Daniel Sedin told NHL.com. "To come out and have that kind of game (Tuesday) shows the kind of character we have in this room."
Character and drive should push the Canucks past the Blackhawks series and get them engaged against the Predators. Time is absolutely of the essence because the NHL did them no favors by putting Game 1 against Nashville on Thursday.
"Obviously it feels good, but we're going to have to move on," Kesler said. "It's only the first round. It definitely felt good and it still feels good, but we've got to move on and focus on Nashville now."
To do so, the Canucks have to almost flip a switch into a different mode because the Predators are basically polar opposites of the Blackhawks. With Shea Weber and Ryan Suter as their No. 1 pair and Pekka Rinne in net, the Predators are built from back to front whereas the Hawks were built more from the front to the back with stars like Toews, Patrick Kane, Patrick Sharp and Marian Hossa.
Nashville finished the regular season third in goals against and fifth in penalty kill -- but 21st in goals per game and 26th in power play. Chicago finished the season fourth in goals per game and fifth in power play, but 12th in goals against and 25th in penalty kill.
The Predators played more of a run-and-gun game against Anaheim and scored 3.67 goals per game in the series, but it's likely they they'll try to lock down and play more of a trapping style against the Canucks.
"They're a completely different team than Chicago," Kesler said. "I think they clog up the ice really good and they rely a lot on their defensive game to win games. We've got to be ready for that."
Kesler had 41 goals during the regular season but none against the Blackhawks; he was more focused on shutting down Toews, who did not have an even-strength point in the series. The Predators don't have any one forward that Kesler, a Selke Trophy finalist, will have to shut down so he might play a more offensive role in this series.
On paper it would appear that he'll have a good chance, especially if Weber and Suter are focused on the Sedins, but since the Predators' team game is predicated on defense, all four of their forward lines are measured by how responsible they are without the puck.
"They don't have a guy like (Toews) or (Kane) that take over the game, but they kind of contribute by committee and certainly they dispatched a strong Anaheim team," Christopher Higgins said. "They're a dangerous team. They have a lot of good components. They're very well coaches. We're going to have our hands full."
The challenge that Rinne brings is somewhat similar to that of Chicago goalie Corey Crawford because they're both big goalies who are not easily rattled.
"Besides that he's one of the best in the League, he's a big body that gives his team a chance to win every game," Canucks coach Alain Vigneault said. "Without getting into specifics of what we're trying to do, we know we have a big challenge there."
The Canucks may have a bigger challenge in just getting up for the Predators. They had a history with Chicago that was built on borderline hatred. That doesn't exist between them and the Predators.
At least, not yet.
"On paper it may not look like they have as good of a team as others, but they're a very good team and we don't want that to surprise us or fool us," Hamhuis said. "They had 99 points during the regular season, and they're in the second round for a reason. They're going to be a very tough opponent."
Follow Dan Rosen on Twitter at: @drosennhl