Canucks aim to solve Rinne in Game 2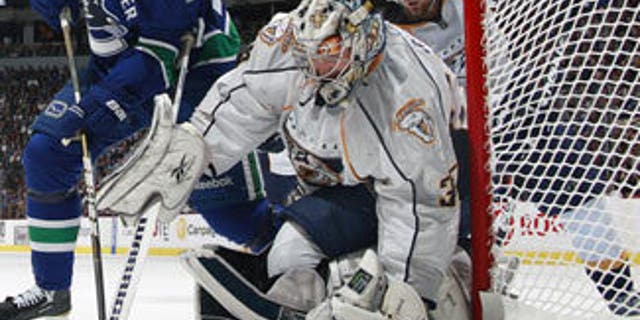 VANCOUVER, B.C. -- After scoring just one goal while outshooting the Nashville Predators 30-20 in Game 1 of the Western Conference Semifinals, it's safe to say the Vancouver Canucks will have to work on some things with goalie coach Roland Melanson, who coaches shooters on goalies around the League.
On Friday morning, coach Alain Vigneault told the media what most were thinking when it came to the team's game plan for Pekka Rinne in Game 1.
"We had a meeting yesterday before the game. Rollie did a meeting with the players on a couple of Rinne's tendencies. Obviously it didn't work really well," Vigneault said with a laugh. "We're going to try and improve that for Saturday."
Vancouver outshot Nashville 16-5 in the opening period and 10-6 in the second period, but had just one goal to show for it. That one goal was enough for a series-opening 1-0 victory.
"He's one of the best goalies in the league, a Vezina Trophy nominee and it's well deserved," forward Alex Burrows said of Rinne, a finalist for the Vezina Trophy. "But for us we got to get screens, we got to go to the net, push him back in the paint a little bit more instead of him coming out and making those big saves.
"We'll make his life difficult tomorrow."
Chris Higgins was the lone Canuck to find the back of the net in Game 1, finishing off a play from Kevin Bieksa and Maxim Lapierre for his second goal of the playoffs.
"He's got a really good glove," Lapierre said of Rinne. "We knew that so we're going to have to try to get traffic in front of him, get some more shots and we're going to have to do a better job of getting traffic in front of him."
In the opening 20 minutes, Rinne made big saves off of Ryan Kesler and Keith Ballard to keep things scoreless. Kesler got his stick on a Henrik Sedin point shot but couldn't deflect it past the Nashville goaltender. Ballard, on a solo effort, got two chances but could not beat Rinne.
"As far as scoring on this guy I think we just got to get more traffic and make his life tougher," Tanner Glass said. "He's a tall goalie, tends to get over the screens a lot and sees things. The tougher we can make it on him, the easier it'll be for us.
"It seemed like he was trying to catch everything, even if it was across his body or down along his pads so any chance you can get to keep it away from his glove there's a better chance to get more rebounds."
For his part Rinne, doesn't plan on making adjustments prior to the game with more traffic anticipated in Game 2.
"Every single team tries to adjust their game depending on their opponent and how they play," he said. "I just read and react. I don't like to think about too much beforehand. I just go out there, read and react, use my instincts and go from there."
Predators coach Barry Trotz isn't worried about the added traffic his goaltender may face.
"You'll hear every coach that is in the playoffs say that we got to get more traffic, got to get pucks to the net and that's standard coach talk," he said. "Trust me, we put Patric Hornqvist every day in front of Pekka in practice and he gets lots of that."