Cano hustles into history books with 30th double of 2015 in Mariners' win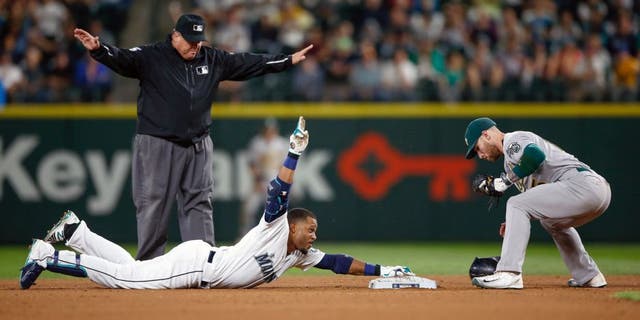 On Tuesday night, Seattle Mariners second baseman Robinson Cano hit the record books.
With his seventh-inning double against the Oakland Athletics at Safeco Field, Cano picked up his 30th double of the season...a number that put him among some lofty company all-time.
You see, the double marked the 11th consecutive season in which Cano has hit at least 30 two-baggers, making him the sixth player in the history of the game to do so. In addition, he's the only player to begin his career with at least 11 straight 30-double seasons, a stat pointed out by the Mariners' PR staff on Twitter:
He had to work for this double too, as he hustled around first base and slid into second to avoid the relay throw from left field:
After the game, the media informed Cano that his very first career double came in May of 2005, when he was on the New York Yankees. The hit came at the expense of the Mariners, a fun twist of which Cano was not previously aware. His reaction to that tidbit, as per MLB.com's Andrew Erickson: "No way. Wow! I didn't know that."
Of his new record, Cano chalked it up to his competitive nature and thanked those around him for their support. As quoted by Erickson, "We're going to go out there and compete every day. You just gotta keep fighting and compete. I feel blessed. Honestly, it's something that takes a lot of hard work, a lot of dedication, family, friends, people who support your career and to be able to accomplish that, you have to be blessed."

Cano has already hit his fair share of milestones over the course of his career, and it seems likely that he will have many more to come as the years roll along.