Canelo Alvarez Vs. Austin Trout: Who Will Win?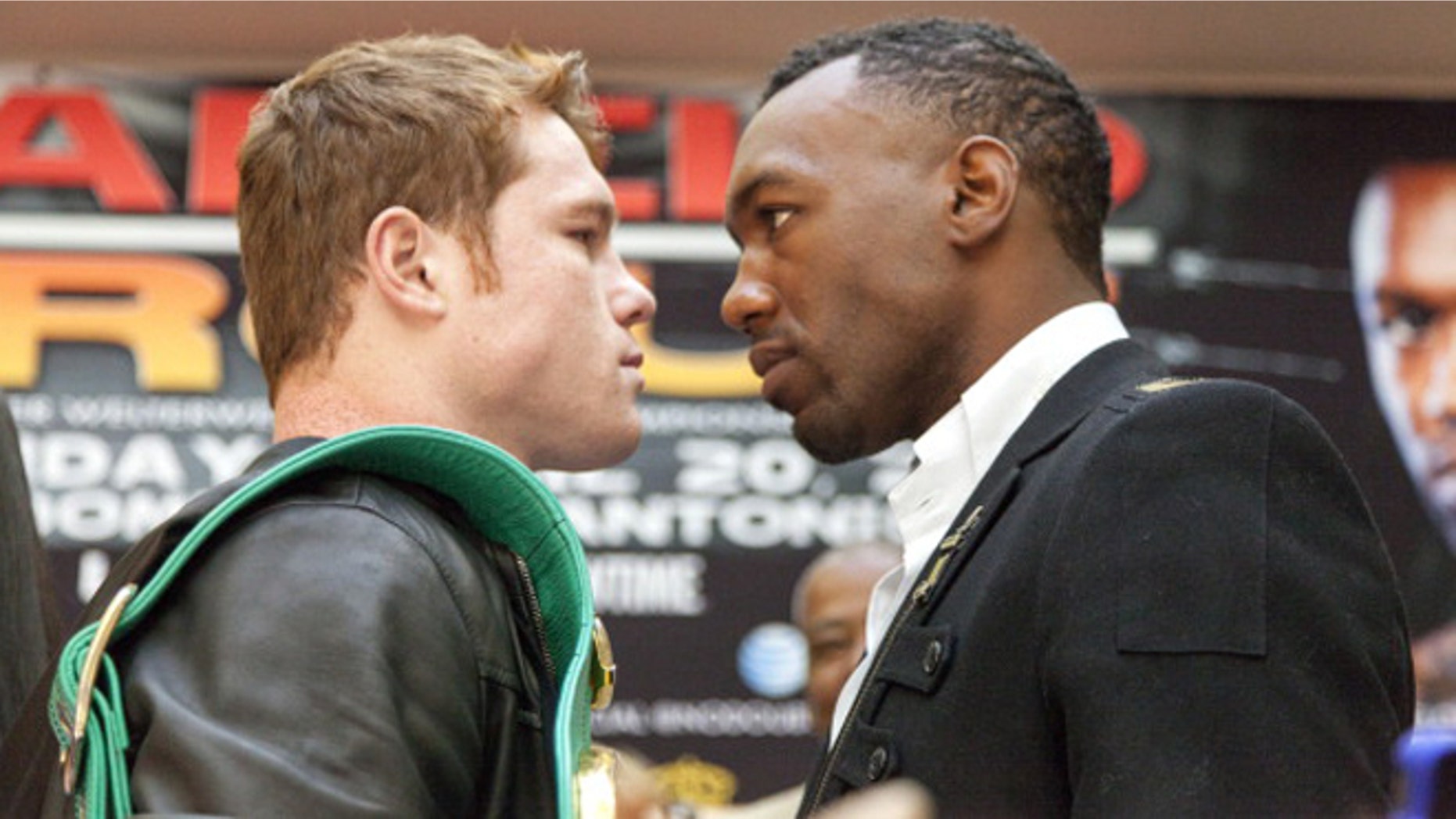 When Saul "Canelo" Alvarez [41-0-1 30 KO] faces off against Austin Trout [26-0 14 KO] on Saturday night, there will surely be few individuals more nervous inside the cavernous Alamodome in San Antonio among the 36,000 fight fans than Alvarez's promoter - Oscar de la Hoya.
Forget the pearly smile and presidential swagger that enchanted the American fight crowd for over two decades, because behind the "Golden Boy's" cheery facade will be the knowledge that if his much heralded, highly hyped "Canelo" loses it will be a roadblock on a career path that thus far has looked serene and meteoric in equal measure.
Losses happen, sure, but as a promoter you don't want them to happen against someone of Trout's ilk - an elite and slick operator who brings zero fans base and financials to the table - the same man who beat Miguel Cotto in his own living room of Madison Square Garden. And, if defeat is a bitter pill to swallow, then Trout would be the vinegar to wash it down with.
Let's be clear. It was not a fight that de la Hoya wanted to make.
But as much as Saturday's junior middleweight title fight may frighten de la Hoya, it was Alvarez who demanded to fight Trout. It's both a mark of the type of fighter Alvarez is and the sort of career he plans on having. In a sport that fetishizes undefeated records more than any other, there's perhaps an undeniable old school element to the young Mexican. He wants to fight everybody and anybody like champions past, as opposed to padding an already remarkably long record while collecting easy paychecks. The irony of course is that it was this precise credo that de la Hoya himself lived by and made his fortune on.
But how is a fight between Trout and Alvarez likely to pan out?
It's a credit to both fighters and the quality of the matchup that fans and pundits alike are relatively evenly split. Those who saw Trout's smart and savvy victory over Miguel Cotto would no doubt have been impressed by the obvious qualities that the New Mexico native possesses. He had height over the Puerto Rican much in the same way he will on Saturday. He also used his conditioning to wear down Cotto. By dragging the fight into the later rounds, he was able to muster a second wind that his aggressive opponent lacked. Trout's athleticism is a real attribute. Considering that Alvarez possesses the same come-forward style as the Puerto Rican legend, there's undoubtedly a chance the same strategy will be applied and it will be up to the precocious Mexican to adapt.
But while some may see Saturday as an Austin Trout - Miguel Cotto 2.0, many consider Cotto to have been damaged goods, irreparably spoilt since the fateful night when he encountered Antonio Margarito's suspect gloves for the first time. Alvarez is young, and while he lacks mobility in the same way as Cotto does, he can create space for the one thing that Trout does not have - power.
Trout might seek to keep distance but it will be increasingly difficult to do if he feels the full force of  Canelo's renowned scythe-like body shots that ringside sound like passing helicopter blades. Alvarez wields genuine unconsciousness-yielding punching power, a frightening prospect for any opponent.
Therefore, if he's able to swarm and land his weaponry on Trout in the early rounds then the fight could end quickly. If it goes into the latter rounds, a territory Alvarez rarely has to venture into, Trout may have the ability to spring a victory.
If Alvarez is able to get past Trout then he will null and void any possible detractors he may have. Forget the padded record; a victory over Trout would mark a win over an elite opponent and world champion. A loss however could prove to be costlier than the any mere "L" that would appear on his record. With a rumored fight with Floyd Mayweather lined up for the fall, a defeat would likely scupper one the biggest fights in recent years.
That really would be a bitter pill to swallow for Oscar de la Hoya.