Canadiens stay unbeaten, top winless Penguins 3-2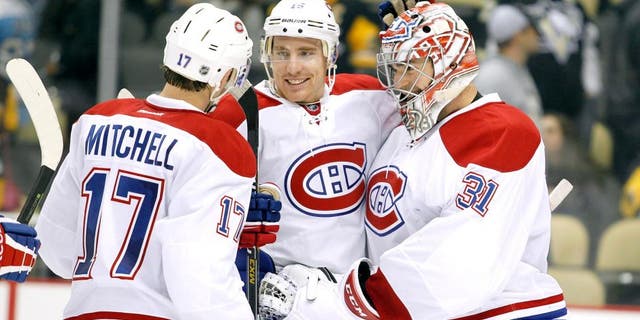 NEWYou can now listen to Fox News articles!
The Montreal Canadiens remain perfect. The Pittsburgh Penguins remain an imperfect work in progress.
Tomas Fleischmann finished off an odd-man rush with his first goal of the season early in the third period to lift the unbeaten Canadiens to a 3-2 win over the winless Penguins on Tuesday night.
Fleischmann scored off a feed from David Desharnais and Carey Price made it stand up as Montreal improved to 4-0. Max Pacioretty scored twice for the Canadiens. Price finished with 31 saves as Montreal wrapped up a perfect four-game road swing to start the season.
''I think we were hard on them early,'' Pacioretty said. ''I think we agitated them a bit. I think you can see that they got frustrated and that's the type of style that we play.''
Beau Bennett and Kris Letang scored for Pittsburgh, which fell to 0-3. Phil Kessel picked up an assist in his home debut with the Penguins, who picked the All-Star forward up over the summer in a blockbuster trade with Toronto.
Marc-Andre Fleury stopped 27 shots but Pittsburgh is winless through three games for the first time since 2005. The Penguins have just three goals through nine periods, their slowest offensive start since 2003-04.
''You have to find ways when you're 0-3,'' center Sidney Crosby said. ''If your desperation and urgency isn't there, then there's a problem.''
Twice Pittsburgh rallied from one-goal deficits to tie it but had no answer after Fleishmann finished a rush that started when Penguins rookie forward Sergei Plotnikov appeared to be tripped by Desharnais in the Montreal zone, springing the Canadiens. Fleischmann ended it by easily slipping a pass from Desharnais by Fleury.
Price, the reigning MVP, kept the Penguins at bay, including a beautiful glove save on Crosby with 2:17 to go in which the goaltender smothered the one-timer with his glove and left pad while lying on his stomach to preserve Montreal's best start since the 1977-78 team won its first six games.
''It's kind of just a desperation play,'' Price said. ''It's just a pass across and I just do what goalies do. Just kind of kick out a limb and found a way to stop it. I got pretty lucky on it. It's just one of those ones that hit you.''
The Penguins spent the offseason acquiring a marquee talent to pair with Crosby and bolstering the bottom six in hopes of reducing some of the load off their stars. While coach Mike Johnston expected it to take time for things to gel, he didn't expect to watch his team to slog through a sluggish opening week in which it seemed reticent to send the puck toward the net.
''It's so hard to score, you've got to be around the net area,'' Johnston said. ''We just can't pass up those shots (when we get there).''
Pacioretty gave the Canadiens the lead 5:46 into the game, taking a cross ice feed from Brendan Gallagher then firing a shot from between the circles and beating a late-arriving Fleury. The Penguins produced just four shots in the first 20 minutes, including a wrister at the end of a two-on-one from Crosby that signaled the two-time MVP's first shot on goal of the season.
Bennett tied it 5:31 into the second, creating a takeaway at one end then beating Price with a shot over the goaltender's right shoulder. Pacioretty put Montreal back in front just over three minutes later with a power-play goal from the right circle, the puck glancing off Fleury's glove on its way to the net.
Letang knotted it again just past the game's midway point with a fluttering wrister that Price couldn't quite pick up. Evgeni Malkin and Kessel picked up the assists - the first of the season by an Penguin - but Price settled down and Montreal's red-hot start continued when Fleischmann slid the puck by Fleury early in the third.
''This is their home opener, they came out with a lot of energy,'' Pacioretty said. ''I couldn't be more impressed with the way we handled that tonight, but we're on to the next one.''
NOTES: Montreal scratched defensemen Greg Pateryn and Jarred Tinordi as well as winger Paul Byron. ... Pittsburgh scratched forward Bobby Farnham and defensemen Adam Clendening and Tim Erixon. ... The Penguins host Ottawa on Thursday. ... Montreal play the New York Rangers in the home opener at the Forum on Thursday.