Canada soccer may have found a home in Vancouver, where 55,000 fans await them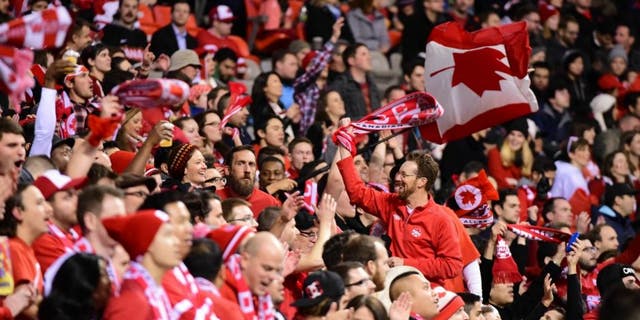 Canada's national team has had an interesting history. There are a lot of reasons to think they should be a good CONCACAF team, but as many explanations for why they haven't. Unsurprisingly, with a team like that and in a country where soccer is not the dominant sport, support has been tough to come by. But they may have found a solution: Vancouver.
The national team moved its first qualifier of the semifinal round to BC Place in downtown Vancouver last fall and the response was phenomenal. More than 20,000 fans showed up and gave the team support that they raved about afterward. Manager Benito Floro campaigned to put the team's next match in Vancouver, and the Canada Soccer Association agreed and the people of British Columbia stepped up in a big way.
When Canada takes the field against Mexico on Friday, the team will be welcomed by a sellout crowd of 55,000. The entire stadium will be packed.
There are only a couple hundred tickets unsold and officials expect those to go before kickoff. Canada will have a home-field advantage. Not a minor one or even just a nice one. It will be a honest-to-god great atmosphere and magnificent support. It will be everything a soccer fan wants from an important international match on home soil -- a spectacle.
That this will happen, in Canada of all places, is stunning. Nobody would have thought it possible just a few years ago, or even last year. That's not to be dismissive of the Canada fans who supported the team before. Support was trending up at BMO Field in Toronto last qualifying cycle, with 17,000 fans showing up and providing their full-voice support, but the entire empty sections were noticeable. It was a step forward for Canada, not anything great.
What Vancouver is poised to provide is great, and it hasn't been easy to get to. BMO Field is the official home stadium of the national team and was supposed to host all of Canada's matches. Just getting them to place elsewhere was a fight. To go all the way to the West Coast, and play on artificial turf for that matter, was another hurdle. But they made it happen and they are reaping the rewards.
There will be a fight for matches going forward. After all, BMO Field is still supposed to be the national stadium, and with the Canada Soccer Association willing to leave Toronto for Vancouver already, other cities around the country will now see it as an opening for them to get matches too. Taking the national team to the nation's people is a fair argument. But at least when it comes to big matches, like qualifiers, winning is paramount. The best support matters most. And right now, that's Vancouver. Floro fought for it for a reason, and he figures to continue to wield whatever power he has to put as many matches as possible there going forward.
There is no doubt that a fair amount of the fans at BC Place will be supporting Mexico. El Tri's support reaches far and wide, but the vast majority at the stadium should be wearing red. They'll be supporting the home team and signing and chanting for them as they go in search of a spot in the World Cup for the first time since 1986.
Canada soccer has come a long way, and it is far from a finished product. The team should only improve and a berth in the World Cup may not be too far off. But while the team still looks to take the final steps and sort things out, at least they appear to have found a home. It is BC Place, in Vancouver. And it promises to be amazing.