Canada fans still smiling from Sid's Olympic effort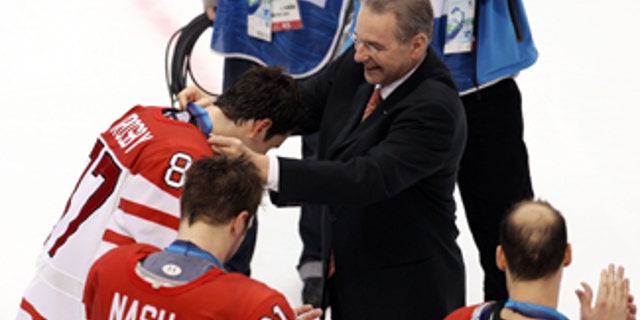 The shot was low and from the bottom of the left circle. Ryan Miller aggressively came out of his net to challenge, but Sidney Crosby still saw a small opening between the goalie's legs, so he let loose a shot.
Crosby swears he never saw the puck go in. He didn't have to because an entire nation told him it did. Miller learned the hard way as well.
"I just heard the screams," Crosby said following Canada's 3-2 overtime win in the gold medal game at Canada Hockey Place.
Exactly one year has passed since that memorable, frozen-in-time moment in Vancouver, and they still are telling him he scored, still screaming, still celebrating.
Canada's Olympic Games already were considered a success worldwide, but inside the nation of 32 million, no one would have been OK with silver in the Men's Ice Hockey Tournament, especially if it came in a loss to the United States.
The streets of Vancouver would have taken on a different feel. The closing ceremonies would have had an undertone of sadness. The last 365 days would have been epically frustrating as Canadians would have been subjected to watching Americans celebrate and claim the game of hockey as their own.
Canadians needed an overtime goal from anyone to lock down what they truly felt was rightfully theirs and to satisfy their four-year quest for redemption from the failure in Torino. That they got it from Crosby, the face of Canada's hockey future since he was a teenager doing amazing things in the Maritimes, made this one of the most historic moments in hockey.
Crosby's goal put him right up there with Paul Henderson ('72 Summit Series) and Mario Lemieux ('87 Canada Cup) in Canadian sports lore. The gold medal put the Canadian national team, always the odds-on favorite to win the tournament on its own soil despite an early loss to the U.S., into the same spotlight as the '02 team that won in Salt Lake.
Jarome Iginla, Chris Pronger, Scott Niedermayer and Martin Brodeur were the only four players left from that dream team that snapped Canada's 50-year gold drought. Back then, Crosby was 14 years old and playing for the Dartmouth Subways, his Midget AAA team. He was still a few months away from leaving for Shattuck-St. Mary's prep school in Minnesota.
"Yeah, I did dream about it -- probably a thousand times," Crosby was saying after the Canadian players finished their impromptu celebration on the ice, passing around a Canadian flag as if it was the Stanley Cup after the receiving their gold medals. "You never know if it's going to come true. You never know if you're going to be in this position."
Crosby first beat USA defenseman Brian Rafalski to the puck near the left boards and poked it to Iginla. Crosby then got an inside step on Rafalski and Iginla found him with a perfect pass for the winning shot through Miller's legs.
Miller said he saw Crosby with his head down so he came out aggressively, but just as he was hoping to force Crosby into making a decision on where to go with the puck, Crosby lifted his head and saw the small opening.
"He beat Miller to the deck with a quick release," winning coach Mike Babcock said.
Crosby's winning goal was the culmination of one of the finest hockey games we may ever see played. Barely 25 minutes separated Crosby's epic goal and Zach Parise's historic tying goal for Team USA. He sent Americans into a tizzy and gave Canadians a collective coronary when he scored with 24.4 seconds remaining in regulation.
Patrick Kane's shot from the right circle hit Jamie Langenbrunner's skate in the high slot. Parise, who was in his customary spot right in front of the net, had the puck come right to him and he wrapped it into the net, setting off a wild celebration by the Americans.
"We showed a lot of heart; scoring that goal with 20 seconds to go to force overtime," Langenbrunner, the U.S. captain, told NHL.com. "We really believed this was going to happen for us, but great players do great things and that is what happened."
Great players littered the ice that day at Canada Hockey Place and they did great things for 77 minutes and 40 seconds before time felt like it stood still.
The buzz outside the building was palpable. The noise inside the building was deafening. The speed of the game was at a ridiculous pace from the outset. Jonathan Toews and Corey Perry gave Canada a 2-0 lead, but Ryan Kesler cut it in half late in the second period. The speed only picked up from that point, and chances were at a premium on both sides.
Canada had two shots ring off the posts early in the third period. Crosby had perhaps Canada's best chance to take a commanding two-goal lead when he got loose on a breakaway with 3:15 left, but Kane backchecked hard and got there just in time to thwart Crosby's deke before he was going to shoot on Miller.
Crosby said later he thought about his missed opportunity when he witnessed Parise's goal.
Time bled away during what felt like an endless intermission after the third period. The machines cleaned the historic ice while the teams settled back into their dressing rooms, waiting for their cues to come back to start skating at blurring speeds.
"It's a tough one with 24 seconds left, but we're in overtime and next goal wins so you have to refocus right away," winning goalie Roberto Luongo told NHL.com after making 34 saves. "Once we got into the locker room guys started thinking about overtime right away. This is just a game of hockey and obviously it was going into overtime, but you have to play the same way."
And they did, Canada with the pressure of an entire nation set squarely on its collective shoulders and the United States with the belief that it could accomplish the unthinkable.
There were only enough gold medals for one team. They needed to make one more for an entire nation.
"That's really what you dream of, to win it in overtime," Canada defenseman Dan Boyle told NHL.com. "We had the right guy scoring the goal."
And that guy had one thing in mind when it was all said and done.
"Enjoy it with the rest of Canada," Crosby said through his smile.
Follow Dan Rosen on Twitter at: @drosennhl