Can the Rams add depth to receiving corp?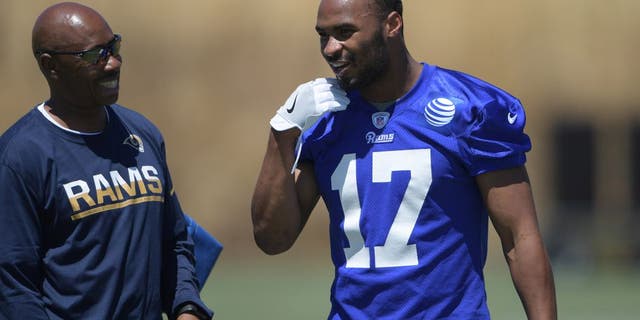 NEWYou can now listen to Fox News articles!
First-year head coach, second-year quarterback, and freshly returned to Los Angeles, the Rams need to surround the youth of their team with veteran leadership. And so far this offseason, they have done just that. With the signing of All-Pro veteran left tackle Andrew Whitworth and seasoned wide receiver and LA native Robert Woods, it is clear the organization issupplementing its youth with age.
Upgrading the offensive line to protect Jared Goff and open holes for Todd Gurley were priority number one for the Rams, but that is not the only thing the team needs on offense. With a receiving corp that had only one 1,000 receiver (Kenny Britt) and accounted for a total of 14 touchdowns, the Rams need more from their budding corp.
Free agent Jeremy Maclin can do the two things the Rams want: be a veteran leader and produce. In two years with Kansas City, Maclin amassed over 1,500 yards and ten touchdowns, and was a Pro-Bowler in 2014 when he was with the Eagles.
Of course, paying the talented receiver would be difficult for the Rams with just $1.7 million in cap space, but it would be a worth while move for the franchise to compliment the young group of receivers that have impressed the Rams thus far.