Can Carmelo coexist with Lin?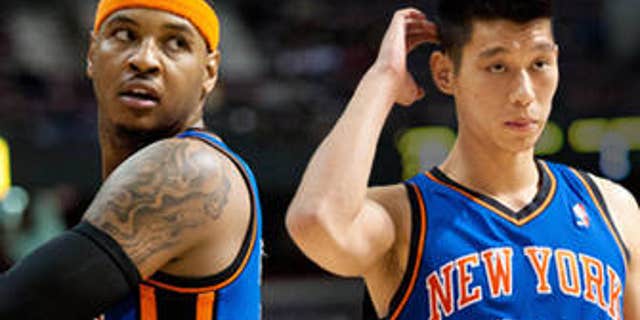 By now you've acquired at least a passing familiarity with Jeremy Lin. The reigning Eastern Conference Player of the Week is the first to average better than 20 points and eight assists in his first four starts. What's more, he has quite suddenly taken the league lead in that all-important stat -- jersey sales.
Still, nothing speaks to Lin's unexpected triumph quite like the anticipation surrounding his fifth start, tonight in Toronto.
Strange but true: People actually care about an otherwise dog-ass Knicks-Raptors game in February.
Lin has become that rarest phenomenon in professional sports: a guy for whom the deed preceded the hype. Unlike, say, Tim Tebow, there was no debate heralding his arrival. Rather, his arrival, if that's what you call it, was obscured between stints with the Reno Bighorns and the Erie Bayhawks, for whom he was playing just last month.
But now, in the absence of their two titular "stars" - the epically ill-conceived pairing of Amar'e Stoudemire and Carmelo Anthony - the Knicks have won five straight. Lin has done more than average 26.8 points and eight assists during this stretch. He's filled a void the Knicks have had since banishing Mark Jackson 20 years ago.
Still, you wonder. Lin is an Asian-American in a predominantly African-American league. He's a Harvard graduate in a sport whose most attractive commodities are typically one-and-done players for whom college is part vocational training, part finishing school. So, yes, as Lin challenges both probabilities and stereotypes, it's natural to wonder: how long can he keep this going?
That's no longer the question, though. Look, I'm not nominating Lin for the Hall of Fame, but he's a legit starting point guard (and given the fact that his checks are signed by Jim Dolan, yet more evidence that good things happen to undeserving people). But his status isn't the issue. It's Carmelo Anthony. That's the issue. That's the question. Can Anthony adapt?
Yes, I know tonight marks Stoudemire's return after the death of his brother. And yes, Stoudemire's game is less than complete. But his seasons in Phoenix with Steve Nash prove he can play a pick-and-roll style. He can play with a point guard, and defer to one for his own good.
Anthony is a different story. There's nothing to suggest he can adjust -- even though his career and his reputation (and maybe even his marriage to La La) depend on it. This isn't just about accepting a point guard. It's about playing team basketball. It's what Anthony never learned under Jim Boeheim at Syracuse. It's what he refused to learn under George Karl in Denver. It's what he hasn't had to learn under Mike D'Antoni, who, until a week ago, was a lame duck.
Jeremy Lin might have changed D'Antoni's fate. But Carmelo's? Probably not.
"When I get back Jeremy will have the ball in his hands and I'm playing off that," Anthony said Monday.
Convinced? Don't be.
"I know what I bring to the game. I know what I bring to this team," said Anthony, sounding like a guy trying to assure himself more than anyone. "My teammates know that. But to say, 'How can I fit in?' It's easy; give him the ball and space out. I get back to doing what I know how to do best."
Hold up. Anthony thinks this is about moving off the ball, and waiting for Lin to pass? Nothing, mind you, about moving without the ball or making an extra pass.
That's because Anthony doesn't see the floor. He sees what's happening to him - the ball and his man. It's not his fault, either. It's what he's been trained and rewarded for doing. He isolates the defender and scores. That's what he does best, always has, and probably, always will.
The mythology of the Knicks is based on Red Holzman's dictums: Make the extra pass, find the open man. (For more on that, I recommend Harvey Araton's masterful When the Garden was Eden ). With a few short-lived exceptions (Rick Pitino's interesting, if failed, experiment comes to mind), the intervening decades have produced mostly predictable, star-oriented, isolation basketball at Madison Square Garden. For all the glorious nostalgia generated by Holzman's championship teams, the Knicks traditionally have been less than the sum of their parts. Carmelo fits right in.
If you ask me, his best shot at a championship will come when he's well north of 30, the second or third guy coming off the bench for some quick points.
There's no shame in that. I've only seen one player who was good enough and smart enough to really change, one guy who relinquished the ball in his prime, a pure scorer who wanted his ring more than his numbers.
And you don't have to be a student of Knicks history to know Carmelo Anthony is no Earl Monroe.