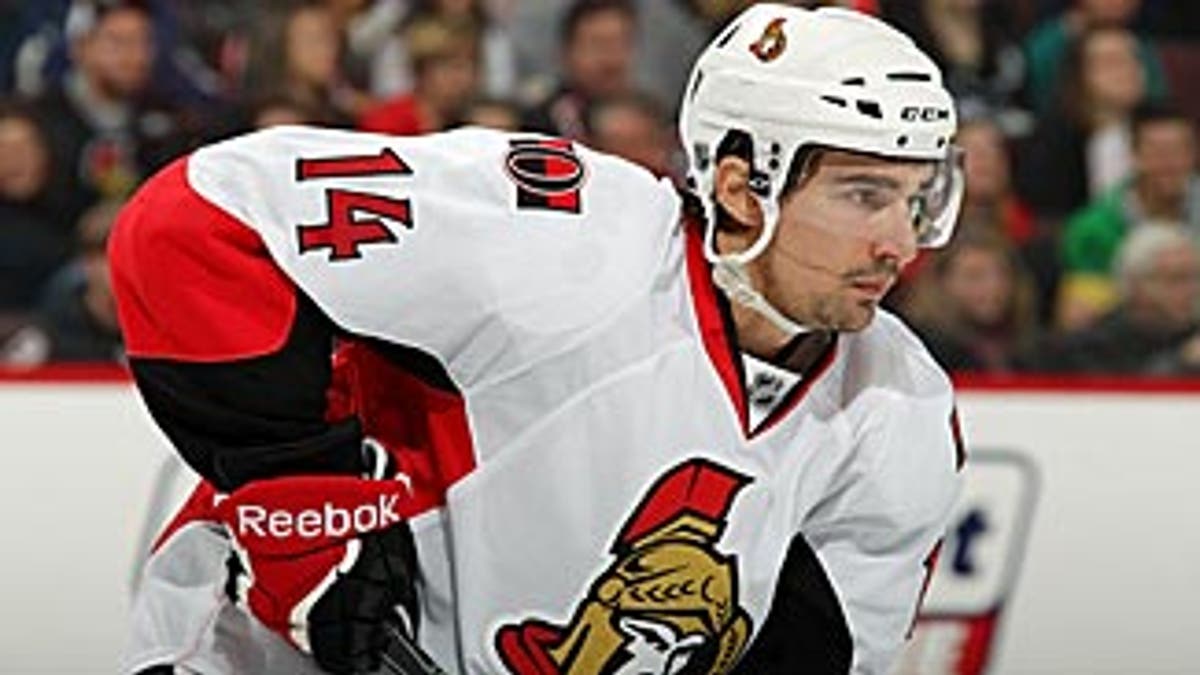 CHICAGO -- Chris Campoli still is a little caught up in the whirlwind of being traded to the Chicago Blackhawks on Monday, but he's ready to get on the ice for his new team.
He'll get the chance to do that Wednesday at the United Center, when Chicago hosts the Calgary Flames in a big game between teams separated by just one point in the Western Conference standings.
After leaving Ottawa and last place in the Eastern Conference, the puck-moving Campoli is looking forward to joining a heated playoff race -- not to mention a talented corps of puck-moving defensemen.
"It was a completely different atmosphere (in Ottawa)," Campoli said following Chicago's morning skate Wednesday. "In Canada, there's a lot of passion for the game, so that's there, but the confidence and the buzz around the (Senators) and lack of success in Ottawa this year kind of deflates that. Here, there's so much excitement. Winning the (Stanley) Cup last year and having another successful season this year, it's exciting to be a part of that. It's a great town, great team and a great group of guys. I just want to fit in well and help us."
That's all the Hawks are looking for out of him. After defenseman Jordan Hendry went down with a season-ending knee injury last weekend and the loss of Nick Boynton on waivers to the Philadelphia Flyers, the Hawks needed to add a defenseman quickly. To get Campoli, as well as a conditional 2011 seventh-round pick, they dealt forward Ryan Potulny and a 2011 second-round pick to the Ottawa Senators.
Chicago feels it not only got depth on the blue line, but a great fit for the team's up-tempo style. Coach Joel Quenneville wants his defensemen to be active offensively and also make tape-to-tape passes to forwards out of the defensive zone.
Quenneville said Campoli will play Wednesday with Brian Campbell -- another defenseman known for his slick skating and puck-moving ability.
"I think they're going to complement each other with their agility, the way they move the puck and the way they defend," said Quenneville, who also might give Campoli some time on the penalty kill. "I think it'll be a nice start for the both of them. (Campoli) adds an ingredient that we like in our team, whether it's puck possession or the activation of our 'D' in a pressure game."
As for the craziness of being traded, Campoli said it's still kind of overwhelming.
"It's madness, if you will," he said. "I must have 200 messages on my phone. All in all, though, it's a good opportunity for me."
Frolik staying positive -- Chicago forward Michael Frolik hasn't scored a point in nine games since coming to the team from Florida in a trade for forward Jack Skille.
The 23-year old Frolik, picked No. 10 by the Panthers in the 2006 Entry Draft, also hasn't scored a goal since Dec. 17, a span of 32 games. He's trying not to worry about it, but at the same time he's quite aware of the dry spell.
"It's not easy," Frolik said. "It's been a while since I've scored. For sure, there's still a little monkey on the back, but hopefully when I score it's going to go away and I will feel lighter and more confident. But I try not to think about it and stay positive. The guys and coaches are trying to help me with that, and just say, 'Play the game.' But hopefully it's going to come … but other guys are scoring and we're still winning, so that's good for the team. Hopefully we'll continue winning games."
Modin reunited with Feaster -- Until the Calgary Flames traded to get Freddy Modin from the Atlanta Thrashers on Monday, the last time Modin had spoken with Flames General Manager Jay Feaster was in 2004 -- right after they won the Stanley Cup together with the Tampa Bay Lightning.
"I haven't seen him since I left Tampa," said Modin, whom Calgary got in exchange for a seventh-round pick in the 2011 Entry Draft. "It was fun first talking to him on the phone. It's just positive energy coming out of him when he's talking and when you see him. So to see him on the plane last night, it was fun. Like seeing an old buddy, you know?"
The deal did catch Modin a little off-guard, but it didn't take him long to adjust.
"You get a little shaken up when you get the call," he said. "But you know the call can come and you're basically waiting around that day to see if it's going to come or not. When it comes, it shakes you up a little bit, but it goes away just as fast. It's funny how quick your mind-set and thought process just changes from one thing to another."