Camp note: Toughest O-line Cowboys defense will face all year is their own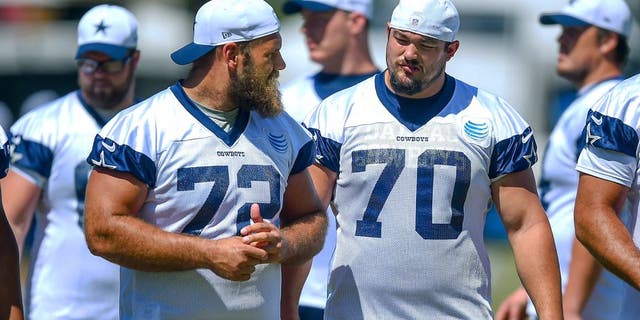 It has quickly become obvious during my first-day visit to Dallas Cowboys training camp that the defensive line won't face any tougher challenge during the season from another offensive line greater than the one they face in practice.
For instance, take Greg Hardy. Obviously, he is one of the NFL's top pass rushers. But in a one-on-one drill against Tyron Smith, Hardy fought but couldn't escape the grasp of the star left tackle's long arms. During an 11-on-11 drill, Hardy shifted inside from end to defensive tackle but got stonewalled again by right guard Zack Martin.
The run blocking is outstanding as well. The Cowboys don't just field the NFL's best starting offensive line. It's also the deepest. La'el Collins and Mackenzy Bernadeau would be starters on most other teams. In Dallas, they are backups. The Cowboys also haven't gotten anything yet from third-round pick Chaz Green. The rookie right tackle is recovering from offseason hip surgery.
With how good this group looks, maybe Jerry Jones and Company are correct. The Cowboys might not need DeMarco Murray to excel rushing the football in 2015.
Alex Marvez is touring training camps around the country. Check out his dispatches from Chargers and Raiders camps.