Cam Cameron calls himself the 'ghost chaser', talks developing QBs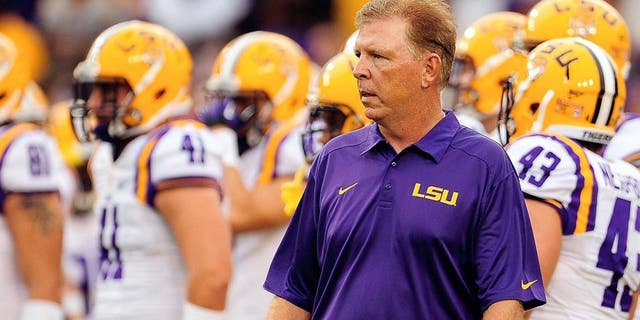 Make no mistake about it, after LSU's performance on offense last season, offensive coordinator Cam Cameron's is firmly sitting on a hot seat in Baton Rouge. Despite having as much skill position talent as any team in the nation, the Tigers finished 2014 ranked 116th in passing offense, 80th in total offense and 76th in scoring offense.
Those numbers are the main reason LSU lost five games last season and enter fall camp in a heated quarterback competition. While much of the blame fell on the quarterbacks last season, Cameron is quick to point out that their performance is a collaborative effort.
"No. 1 you have to be careful. You have to be careful about planting," Cameron said, according to CoachingSearch.com. "You're trying to teach a lesson, but you plant too many seeds in a guy's head, and now he starts chasing ghosts. I tell the QBs I'm the ghost chaser. I'm the guy who plays the scenario game. You cover one thing with a young player, and then they fixate on it. Now, they become blind to other things. You have to be smart.
"A guy comes to the sideline and you think you have this timeline to get the problem solved. The defense gets a turnover, you haven't solved the problem or communicated with the QB, and it can get you again," Cameron said. "Those moments are critical. It's how you go about them that I think is the most important thing."
Cameron also relies on Les Miles to help him in situations when the players may be giving their head coach, who is on the sideline, signs of body language that Cameron cannot see from the booth. Miles will then relay that information to his coordinator.
"Les has really helped me several times. He goes, 'Cam, he's got a good look in his eye.,'" Cameron said. "Les will tell me so I know right now the guy has a clear picture, so I get him on a headset. I say, 'Give me a little heads up on what happened. 'He says, 'Hey, that's my fault. It was this, this or this.' Or, Les will say, 'You might want to check with him on that one, he has a bad look on his face.'
"… There's no manual to the deal. These are living, breathing human beings. Every situation to a lot of those guys is new, so you have to draw on their experience. Based on their level of experience and their maturity level, they're all different."
While Cameron is spot on in his rationale, the fans won't put up with another season of offensive ineptitude like they saw last season. If the Tigers don't rebound on offense, this very well could be Cameron's last season with the team.
(h/t CoachingSearch.com)