Calvin Johnson was great but he's no Hall of Famer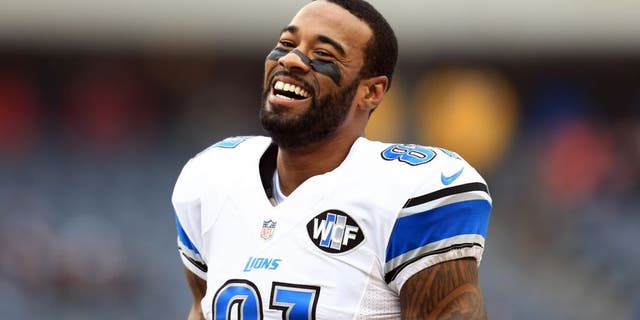 Calvin Johnson, whose retirement was announced on Tuesday, was one of the brightest receiving stars the NFL has ever seen. His 2012 season, in which he had 122 catches for an NFL record 1,964 yards, is up there with the best years put up by Jerry Rice, Randy Moss, Marvin Harrison and other modern receiving greats. He was one of the most hard-to-cover wideouts in the history of the sport and a receiver who changed a defensive game plan the instant he stepped on the field.
But for all his greatness, Johnson is not a Hall of Famer. Not even close. The Hall of Fame is for immortals. Thirty-year-old men make not for immortality.
Megatron played for just nine years, too short for anyone not named Jim Brown to deserve a bust in Canton. He made the playoffs twice and has no wins to show for it. He'll finish No. 43 on the all time receptions list behind players such as Santana Moss, Henry Ellard, Larry Centers, Rod Smith, Muhsin Muhammad, Jimmy Smith, Derrick Mason and Eric Moulds. He played one less season than Brandon Marshall and has 151 fewer catches. Overall, he's only fourth on the all-time Johnson reception list (Andre, Keyshawn and Chad are ahead.)
Though he holds that single-season mark for receiving yards, it was only one of three years he had more than 1,350 yards, the same as Roddy White, Antonio Brown, Demaryius Thomas and Reggie Wayne and one more than Wes Welker, Charley Hennigan and Bobby Mitchell, who's a Hall of Famer, albeit one who might as well been catching passes in the dead-ball era.
Then again, Megatron was one of the greatest offensive weapons of his era, beating triple-teams like he was MJ in his prime. He holds a number of NFL records, including most receiving yards per game. He was just behind Randy Moss in receiving yards before turning 30 and third place in receiving yards over the first nine seasons of a career. He was a do-it-all dominator. (It has to be noted that Megatron did all this in the most pass-happy era in NFL history. Six of the eight seasons with the most catches are by active players and six of the top 13 seasons for receiving yards have taken place since 2011. It's a time of inflated numbers.)
On the flip, Johnson tended to have his worst games in the biggest spots, something that happened at Georgia Tech too. (As a receiver, this could hardly be pinned entirely on him.) Here's the most dominant run of his career, which took place, not surprisingly, during his record-breaking 2012:
12 catches/207 yards, 5/143, 8/140, 13/171, 10/118, 10/121, 11/225. That's seven games for a total of 1,125 yards and 69 receptions, averaging out to about 10 catches a game for 160 yards. Over a whole season that'd be 160 catches for 2,560 yards. Simply put, it was the best receiving stretch in NFL history.
The Lions went 0-7 in those games.
No one is doubting the greatness of Calvin Johnson. He was the NFL's brightest receiving star for five years, doing things with the football and away from the football that few, if any, had done before him. (He even has a rule named after him.) But his fame was fleeting, his star shooting. He's sort of the Terrell Davis of the receiving set.
To not call him a Hall of Famer is no insult, it's acknowledging a fact: Canton doesn't house a Hall of Under 30, making it there is a career-long achievement. That's why I wouldn't expect Johnson to be angry to hear such an opinion. If his goal was to be a Hall of Famer, he'd have kept playing a few more years (and still may if he decides to come back one day). But if his goal was to become the most dominant receiving force in football, if only for a short time, then mission accomplished.