California youth soccer league trying to keep NFL out of park near Super Bowl site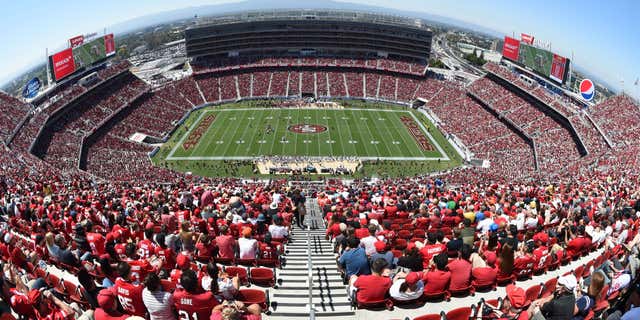 A California judge delivered the latest blow to a youth soccer league Tuesday, denying its request to keep the NFL out of a field next to Levi Stadium in Santa Clara during Super Bowl week.
The Santa Clara Youth Soccer league is trying to keep the NFL from using an 11-acre soccer park next to the stadium as its Super Bowl 50 media hub, according to the San Jose Mercury News. However, Santa Clara County Superior Court Judge Joseph H. Huber declined to block the move with a temporary restraining order for the second time.
The judge will determine the park's fate Monday to consider a long-term injunction, according to the Mercury News.
Gautam Dutta, a managing partner at Business, Energy and Election law, which is representing the soccer league, claims Santa Clara broke the law when it allowed the NFL to use the soccer park for Super Bowl 50 festivities.
Steve Robertson, vice president of the Santa Clara Youth League, told the paper the league knew since 2013 the NFL was planning on using Levi Stadium, and the home of the San Francisco 49ers, for the Super Bowl. He said they didn't know the soccer field would be used to house nearly 6,000 media members during the week.
The NFL has already started removing parts of the field to convert it into its media center, according to the Mercury News. The soccer league insists the city failed to hold a public hearing for temporarily changing the park into something other than a soccer field.
Former Santa Clara Mayor Patricia Mahan was on the council when the permit was issued in 2001 and said city leaders took steps to limit other uses on the land.
"We wanted to ensure that land would be used only for that purpose," Mahan told the paper. "We didn't want it to be used by professional teams. Any major change, even if it was temporary, warranted a public discussion."
Santa Clara City Attorney Ren Nosky has said Santa Clara has complete control use the park however it likes and the agreement between the city and the league to use the soccer field was part of a "contractual obligation" and not subject to a public hearing.
While soccer players fear the park will be completely destroyed by the NFL's usage, a league spokesman said there are already plans in place to fully restore the field should it be damaged.
"The NFL and 49ers have already committed to replace, at no cost to the city of Santa Clara, the two natural grass field," NFL spokesman Brian McCarthy told the Mercury News.
Soccer coaches, though, are still worried that the field won't be restored in a timely matter and that scores of students will be impacted because of it.
Click for more from The San Jose Mercury News.