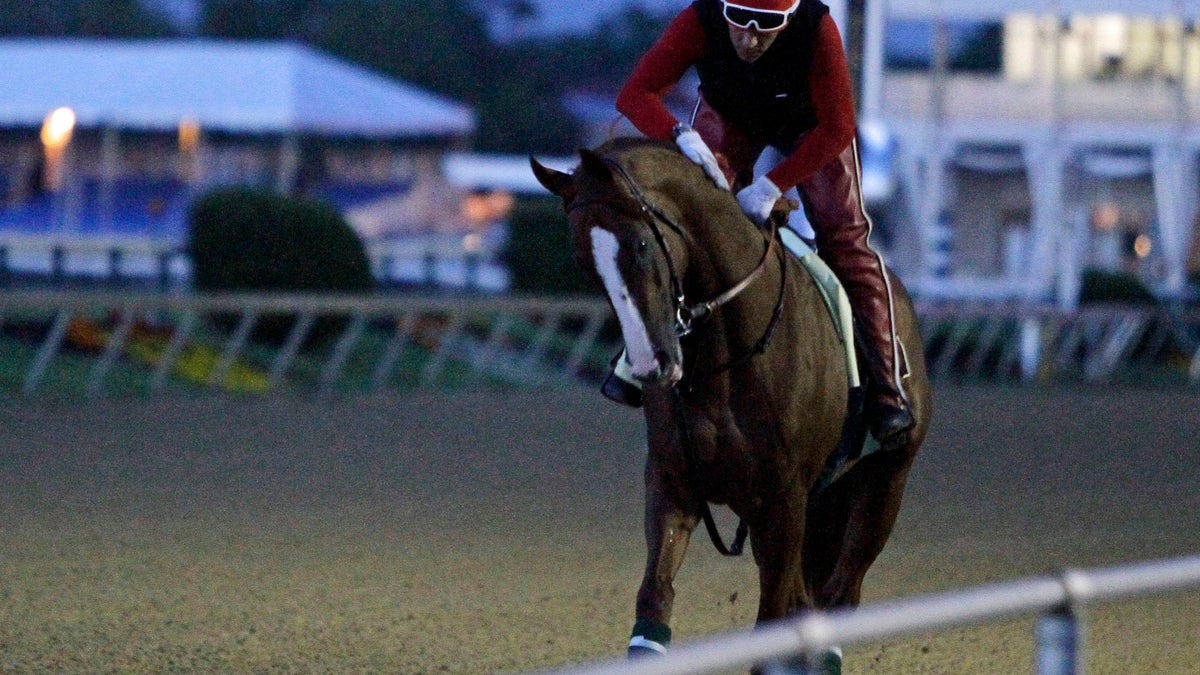 California Chrome's trainer downplayed a small blister in the colt's throat Friday, as the Kentucky Derby winner made final preparations ahead of the Preakness.
"California Chrome is fine. His throat is fine. He had a little tickle," Alan Sherman, an assistant trainer said.
"He is not scratching from the Preakness," he said. The colt had a similar blister before his Derby win, and is being treated with a glycerin throat wash.
The even-money favorite will face off against nine rivals in the 1 3/16-mile Preakness at Pimlico Saturday.
"When you run a 3-5 shot, you've got a lot more pressure on you knowing you're going to be the favorite, but I think we can handle it," trainer Art Sherman said.
If the chestnut colt with four white feet can repeat his Derby success in the $1.5 million Preakness, he'll set himself up for a Triple Crown try in three weeks in the Belmont Stakes.
It's been 36 years since Affirmed swept the Kentucky Derby, Preakness and Belmont to become horse racing's 11th Triple Crown winner.
"The Triple Crown means so much, but I'm old school," Art Sherman said. "Let's just go one race at a time."
California Chrome has run away from the competition in five consecutive victories, winning by an average of over five lengths.
He has had it his way ever since Victor Espinoza climbed aboard back in December when the streak began.
California Chrome extended his winning streak to five with a thrilling victory in the Derby two weeks ago, when Espinoza kept him no worse than third in the 19-horse fray before accelerating in the stretch to win by 1 ¾ lengths.
In the Preakness, California Chrome will break from the No. 3 post, a spot that has seen 11 winners but none since Prairie Bayou in 1993.
"If he runs his race, and he's come back good from the Kentucky Derby, he should be tough in there," Espinoza said.
Social Inclusion is the 5-1 second choice and is one of seven horses coming in fresh, having skipped the Kentucky Derby. Only two Derby horses — Ride On Curlin (seventh) and General a Rod (11th) — have returned to challenge California Chrome in the Preakness.
"You need a good trip, a good setup and to have everything go your way," said Mike Maker, who trains General a Rod. "Obviously, California Chrome is head and shoulders above everybody so far. He's proved it, and every race, he's continued to do so."
Other rival trainers aren't conceding the race to California Chrome, either.
Billy Gowan oversees Ride On Curlin, who has started just as many races in his young career (10) as the Derby winner. He'll have a new jockey in Joel Rosario, who replaces Calvin Borel.
"I've got a whole lot of respect for California Chrome," Gowan said, "but I'd like to try him one time at the top of the stretch and see how we are."
That's the point in the race where Espinoza has turned California Chrome loose during their winning streak. In the Preakness, the speed horses will break from the gate on the outside of California Chrome. Rivals like Social Inclusion and Ride On Curlin could try to box in the Derby winner in an attempt to put pressure on him early.
"But he's not chicken-hearted, by no means," Sherman said. "My biggest concern is the first 70 yards leaving the gate. I don't want him to get impeded behind horses with no place to go. All you can do is hope for a good trip."
Sherman calls California Chrome a "push-button horse," meaning Espinoza can pretty much position the colt anywhere he wants in the race.
"He doesn't have to go to the lead, but if you ask him to run, he'll give you a burst," the trainer said. "The way he wins races, blows them away, blows my mind."
Still, six of the past eight Derby winners did not win the Preakness.
There's a posse of contenders that would love to extend that history.
One of them is Social Inclusion, who will be making just the fourth start of his career and first since finishing third in the Wood Memorial more than a month ago. He's trained by 85-year-old Manny Azpurua, who would become the oldest winning trainer in the 139-year history of the Preakness.
Another is Ria Antonia, the first filly to run against the boys since Rachel Alexandra won in 2009. She is on a streak of her own, having lost six straight races. Borel, who rode Rachel, is aboard.
And there's Hall of Fame trainer Bob Baffert, who will try to win his sixth Preakness with Bayern, a colt disqualified for bumping in his last start in the Derby Trial at Churchill Downs. Rosie Napravnik will be aboard, trying to be the first female jockey to win the race at the track where she rode her first winner in 2005.
Linda Rice is trying to become the first female trainer to saddle a Preakness winner with Kid Cruz, named for New York Giants wide receiver Victor Cruz. He's the only colt with a win over the Pimlico track.
The other challengers are Dynamic Impact, the Illinois Derby winner; Pablo Del Monte, third in the Blue Grass; and Ring Weekend, a gelding who was second in the Calder Derby last month.
After heavy rain overnight Thursday and into Friday, the forecast calls for mostly sunny skies and a high around 70 degrees, ensuring Pimlico's dirt track will be fast.
Post time is 6:18 p.m. EDT.
The Associated Press contributed to this report.