Cain Velasquez stops Travis Browne in one at UFC 200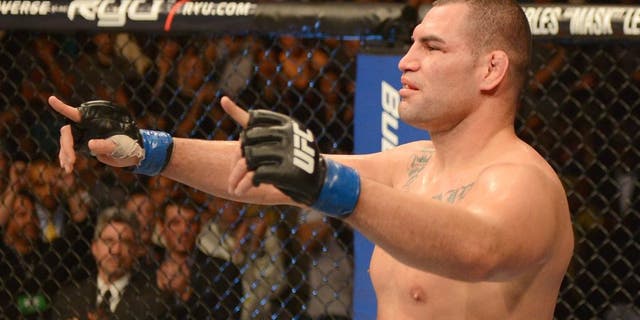 NEWYou can now listen to Fox News articles!
LAS VEGAS -- Cain Velasquez got back on track toward another title fight with a devastating TKO win over Travis Browne on Saturday night at UFC 200.
Browne was tough to get a bead on initially, and tagged the former champion with punches before Velasquez eventually got his rhythm down.
Browne defended Cain's first two takedown attempts and had Velasquez eating big, long punches early on. Velasquez then found his range and connected with an overhand right to the top of Browne's head that dropped "Happa."
Velasquez followed him to the ground and peppered Browne with strikes while also keeping him on the mat with shoulder pressure and a cross-face. It wasn't easy, but Browne eventually worked his way back up to his feet, only to eat more punches and knees.
Browne was game but hurt and Velasquez took him down with relative ease, pinning him on the mat, face down, against the cage fence. From there, Velasquez locked in a figure-four on Browne's right leg, flattened out his hips rendering him defenseless, and punched over and under his arm guard until the referee stopped the fight with just three seconds left in the round.
The stoppage came at 4:57 of the first round. Afterwards, Velasquez dropped to his knees and appeared to console Browne. The two embraced.
"I have a lot of respect for Travis," Velasquez said. "He fights hard. It just feels good to come back ... and get a win."
Velasquez's previous fight was a submission loss to Fabricio Werdum, in which he relinquished the heavyweight title. An immediate rematch was put off when Velasquez pulled out with an injury.
Now, Stipe Miocic is the new champ after knocking Werdum out this spring, and Velasquez is looking for the biggest fights so he can be in a position to take back the strap he's owned twice before.
"I want to fight the best guys," he concluded.
The win improves Velasquez's record to 14-2. Browne's loss drops him to 18-4-1.