Cain Velasquez rematches Fabricio Werdum at UFC 207 in Las Vegas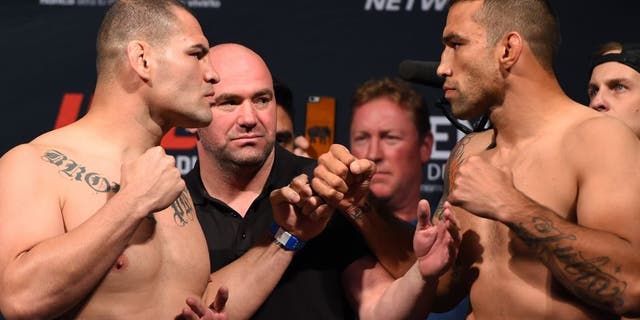 Two former heavyweight champions are set to square off for a second time as Cain Velasquez meets Fabricio Werdum in a featured bout at UFC 207 on Dec. 30 in Las Vegas.
UFC officials announced the new matchup on Thursday.
Velasquez will look for redemption after losing the heavyweight title to Werdum via third-round guillotine choke last June at UFC 188.
The loss cost Velasquez the title and his four fight win streak after the highly touted heavyweight failed to adjust to the massive altitude difference in Mexico City.
Werdum took full advantage of Velasquez's lack of conditioning after he spent the majority of his training camp in Mexico to prepare for the fight.
Werdum's championship celebration didn't last very long either, however, after he ultimately dropped the title one fight later in a battle with Ohio native Stipe Miocic.
Most recently, Velasquez and Werdum both picked up victories over Travis Browne to get back into win column and now they will meet again with a potential title shot on the line.
Miocic defended his belt back in September with a TKO over Alistair Overeem and he will likely await the winner of this fight for his next bout back in 2017.
Velasquez vs. Werdum is the latest addition to the growing card that will end the year for the UFC with Ronda Rousey making her return in the main event as she takes on women's bantamweight champion Amanda Nunes.